"WE WERE THE LUCKY FEW" – REFUGEE WEEK 2020
I was commissioned by the National Archives UK to create a series of illustrations responding to refugee stories for Refugee Week 2020 – the whole process moved me, as it made me think of how it must've been for my family during Partition.
"The aim of this year's programme is to share information about the reality of the refugee experience. The Partition of British India, which led to one of the largest mass migrations in history, contains countless stories and is a fitting way to speak to this experience. It also saw a vast refugee crisis unfold. And for more than three million people of South Asian heritage living in the UK today, Partition has a very personal relevance. It is a story that still impacts many of them, both in seen and unseen ways.
We have at The National Archives an unparalleled collection of files relating to Partition which often capture in graphic detail what happened"
Iqbal Singh, Community Partnerships Manager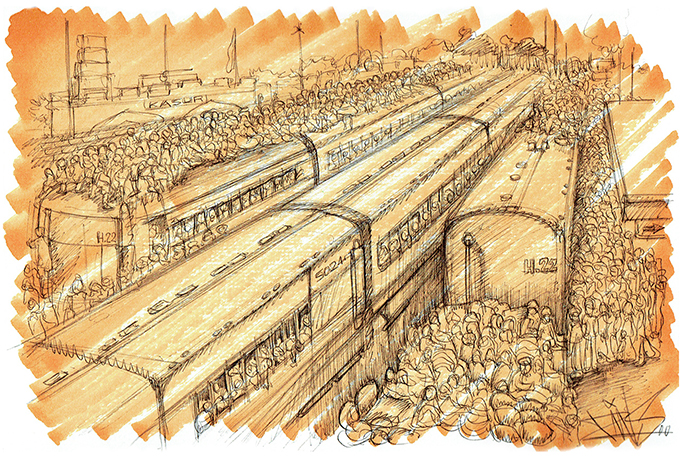 Three Trains at Kasur, 1947
Responding to an extract from 25 August 1947, from the Deputy High Commissioner in Lahore (Mr Hugh Stephenson) to the High Commissioner in Karachi (Sir Laurence Graffety-Smith). The correspondence describes the extreme violence that erupted very shortly after the announcement of the creation of the two new nations of India and Pakistan.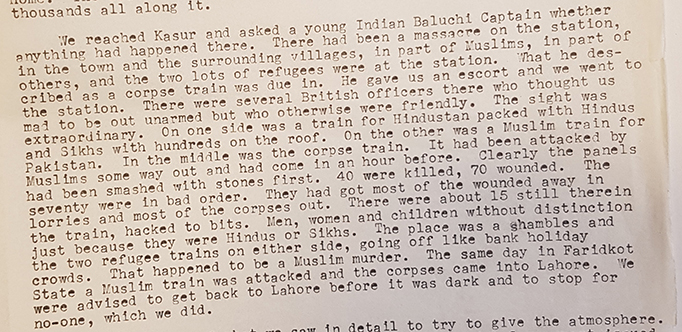 The Pomegranate Tree
Responding to writer, historian and lecturer, Raj Pal, of his personal family's account on what they endured. For Raj, The Pomegranate Tree, was a symbol of loss, forced migration and craving – I incorporated the Partition divide, as well as giving the impression of turbaned folk on either side from above viewpoint – that craving to connect, yet forced apart.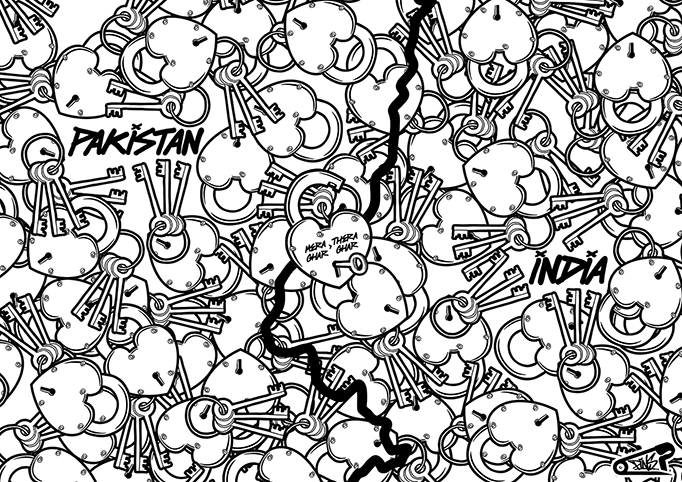 Unlock Partition
This pinteractive piece was inspired by Kusum Seager's story about the keys & locks of the house's people left behind, the memories, the love. I wanted this piece to almost unite the people and unlock the divide for each other – hopefully the colouring-in element would help unify this feeling.*Mera Ghar/Thera Ghar > My home/Your home
Available to download / colour HERE
"Partition meant seeking refuge in the face of violence or confronting the impending threat of violence; it meant people literally fleeing for their lives to seek out relative safety. The Partition of British India and the resulting refugee story is a story of people finding safety, and trying to remake their lives often in the face of great adversity."
Iqbal Singh
Full Blog post by Iqbal Singh HERE