CYAC YOUTH TAKEOVER 2019 – EVENT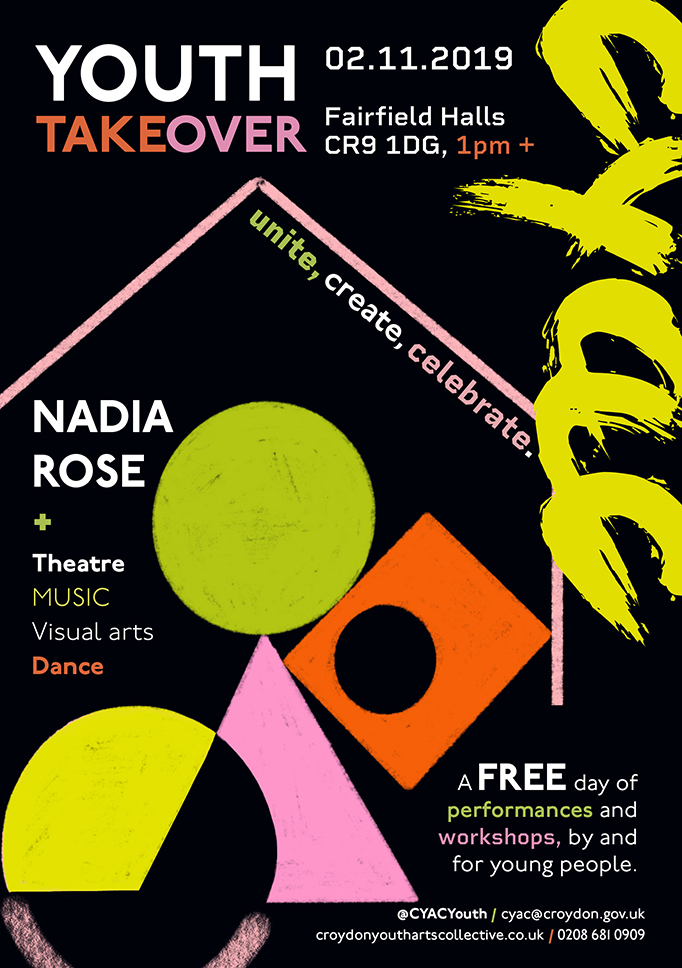 Been working with CYAC (Croydon Youth Arts Collective) on a project responding to the Windrush Exhibition at the Museum of Croydon (now finished) & now I'm supporting them on their Youth Takeover event happening this Saturday Nov 2nd at Fairfield Halls, where i'll be providing 'Open House Vibes' > A Pinteractive activity responding to the current exhibition > 'Windrush: Portrait Of A Generation' by photographer Jim Grover (on til Jan 2020). I got inspired by the open house every Friday evening in Hermine Grocia's (one of the Windrush Portraits) Brixton home when the family would come to catch up, eat food, play games and share vibes – *My kinda house, so expect more of that, just a tad more creative! I'll be there running the session between 2pm-6pm.
The whole day will be ram jam with FREE performances and workshops, run by and for young people – including headline act with Croydon's very own Nadia Rose! *Stormzy's actual actual cousin :O
So if you know any young people who may be interested, spread the love innit – Check out the CYAC site for more info & ticket deets.
See you Sat 🙂
P