MMMM BREAD – PARIS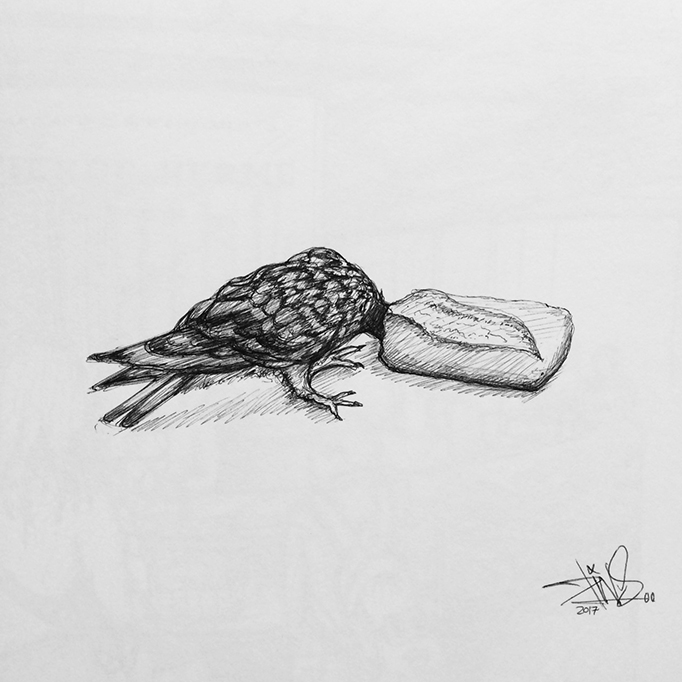 After officially catching the sketching bug since my New York trip, i've decided to spend the rest of my life travelling as much as possible and documenting moments via le sketch.
I decided to visit Paris, as it's not only local-ish, but would feed my hunger for arts / fashion n cultural stuffs, not to mention cafes upon cafes to perch and sketch the vibe, plus the only time I visited there last was ages ago when it was more a me n the lads thing, and the time when I went Euro Disney in school, which was pretty shit tbh.
One thing I learned was to book wayyyyyy in advance when traveling again, Eurostar although super quick, was abit of a bump if booking for next day which I did :/ plus they most certainly pack you in to them tight-ass seats with hardly any leg room *1st class next time, straight!
My journey, enjoy!
P
Le Pain Quotidien, St. Pancras
Shared my Eurostar experience with the PS London peeps, a marketing agency, who were celebrating their 10th Anniversary in true French styleee, champs, sticks of bread, berets, the lot…great bunch!
La Creme De Paris – A sweet little spot near where I was staying around Grand Boulevards station, opens til 2am, and the Waffles / Oreo milkshake was rather bangin'!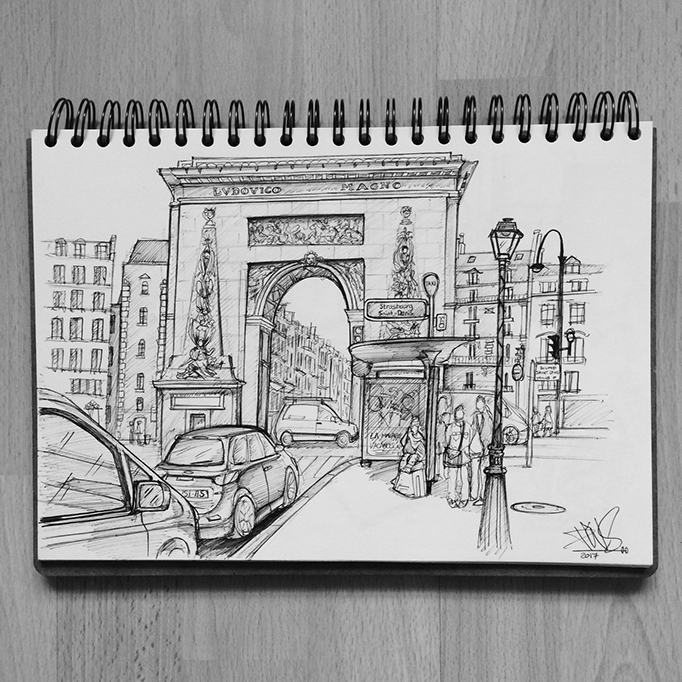 Porte Saint-Denis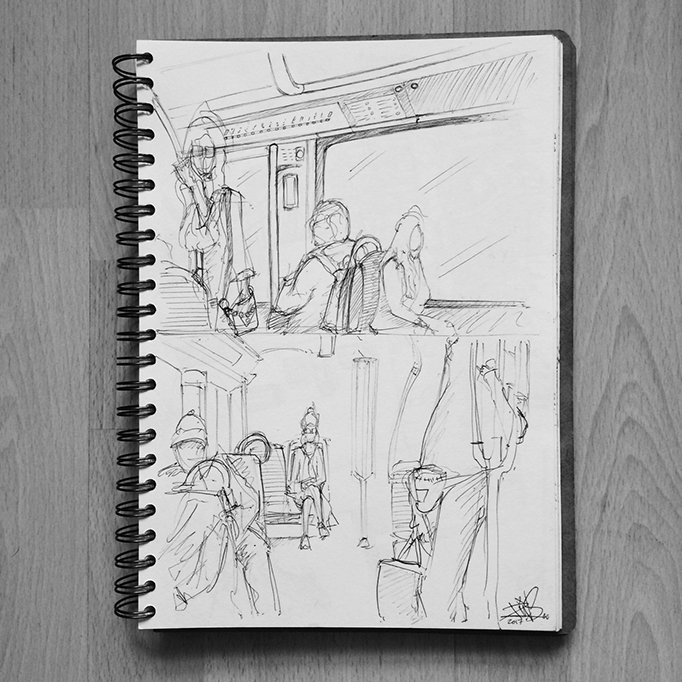 Nation > Porte Dauphine train
Centre Pompidou – Enjoyed the space and some really great artworks here, in particular Yaacov Agam's Kinetic interior space and the Herve Fisher exhibition. *Didn't really approve of the elitist nature of the restaurant on the top floor, I mean the interior design was so delightful and was looking to perch, grab a drink and sketch, but then a lady (from the Uk) who was already sitting there and eating with her husband commented on my PINS hat as I walked in and said how nice it looked blah blah blah and wanted to know more info on how to stay in touch, I merely spoke and the Head Lady Waiter or whatever thought I was soliciting business with her and asked me to leave, the cheek, seriously, totally put my mood off and went down to the 'Basic but with a great view' Cafe downstairs, not without leaving my details with the kind, British lady, of course!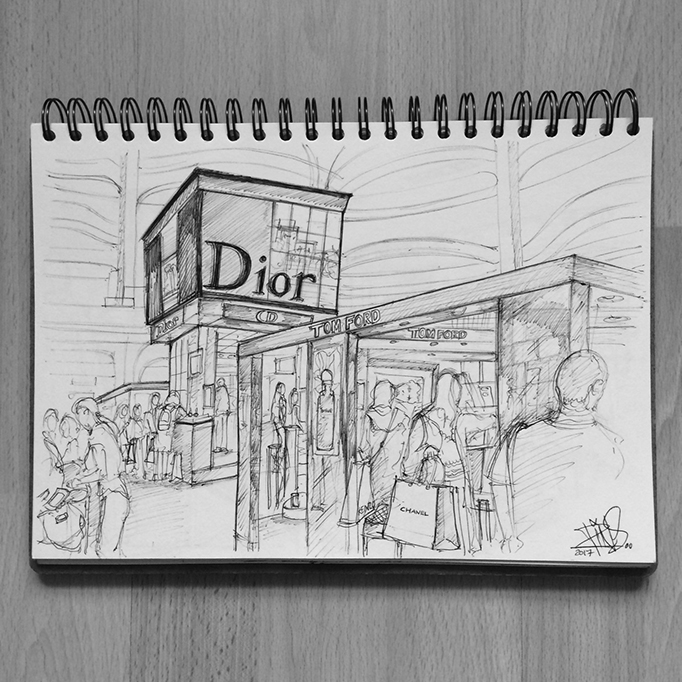 Dior, Galeries Lafayette
Pierre Herme, Galeries Lafayette – Delish Macarons here 😛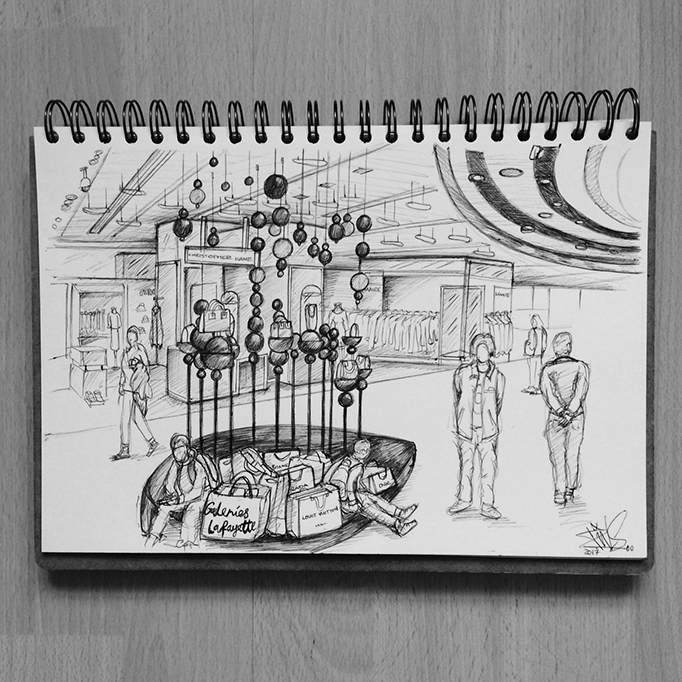 Womens Designer Floor, Galeries Lafayette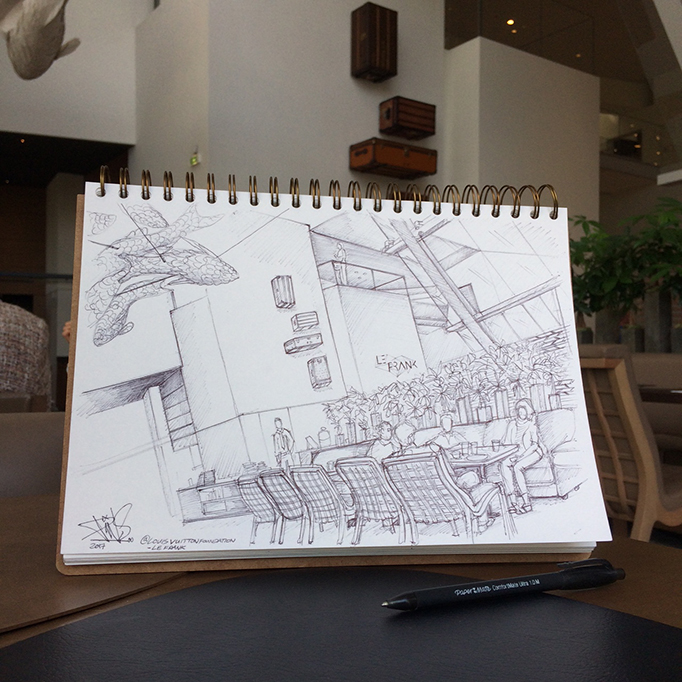 Le Frank, Fondation Louis Vuitton – I spent 7 euors for Orange Juice (with bits, but was shit) here 🙁 Great art / views tho 🙂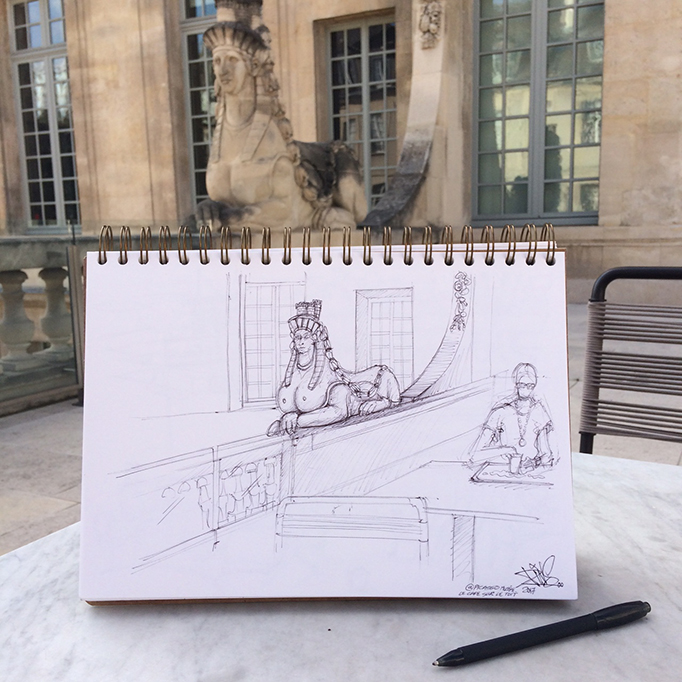 Musee Picasso – Shout out to the lovely Cafe ladies 🙂
OFR Librairie Galerie – Lots n lots of cool books here!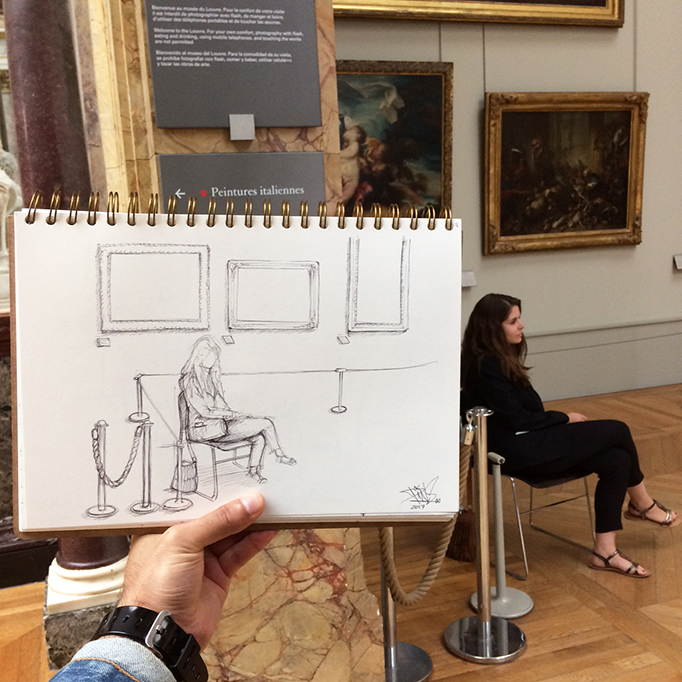 Musee Louvre – Some great art here, but after a while it all looks the same, to the point where the art on the wall disappears and you end up appreciating the beauty of museum assistants, perched in chair with such fine form…shout out to the pretty lovely Marine 🙂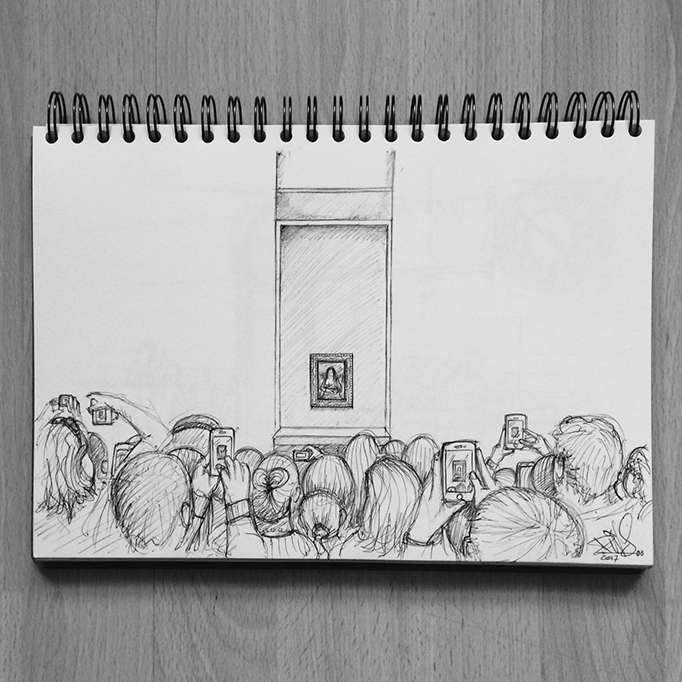 Mona Lisa, Musee Louvre – Mate, it's small :0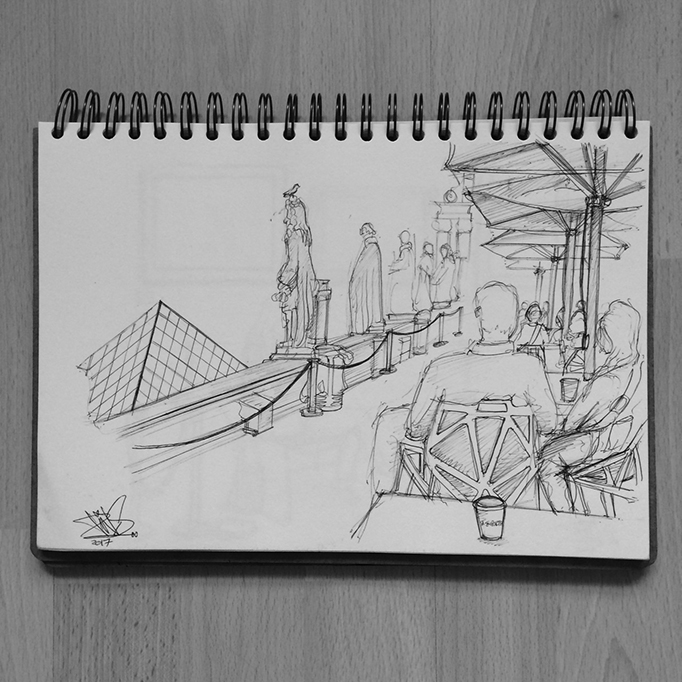 Terrace Cafe, Musee Louvre – Met the lovely Georgina here, a fellow Brit, with a keen interest in artsy / fashion stuff, like me she was by herself, so we teamed up and explored Paris for the next couple days 🙂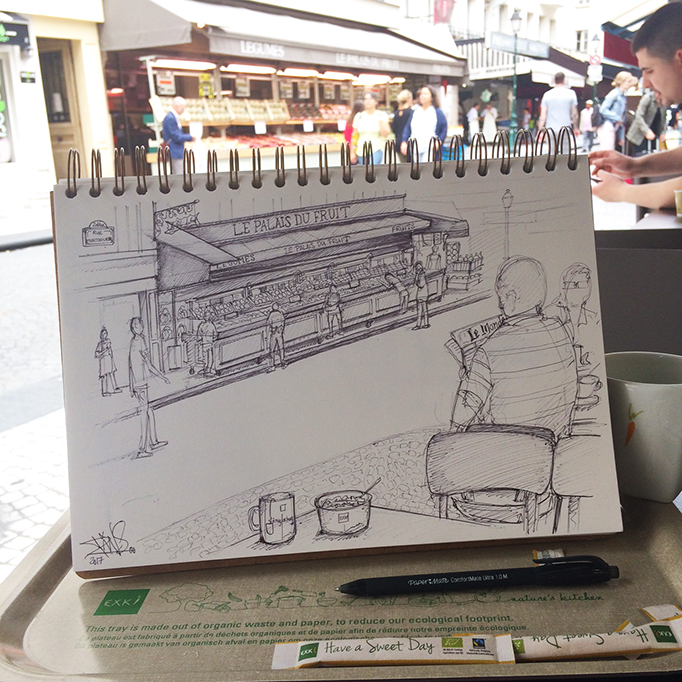 Exki Restaurant – Great healthy bits!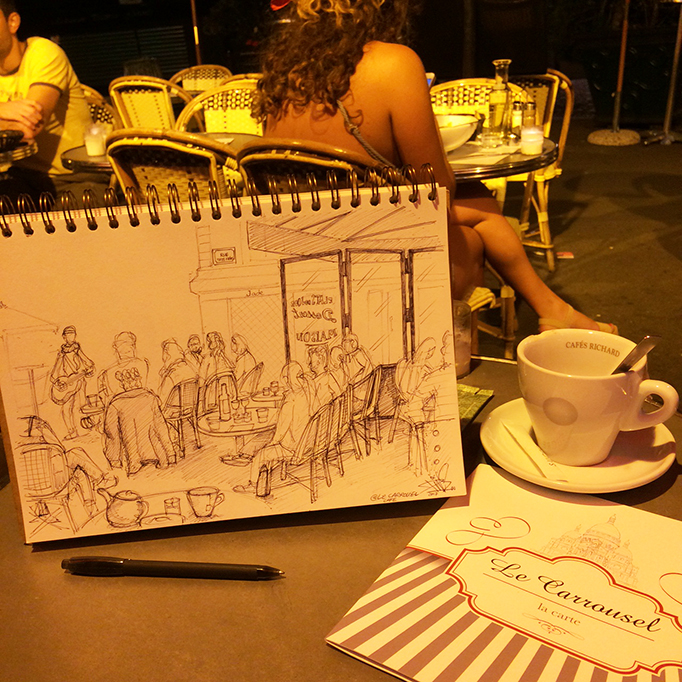 Le Carrousel Cafe, Rue Trois Freres – Nice central cafe, met photographer Hiren and his wife from India, fashion designer Narcisz from Canada but now in Paris, and another family from Germany, good peeps!
Spotted these two munching down a huge bucket of KFC, as you do, when in Paris, ha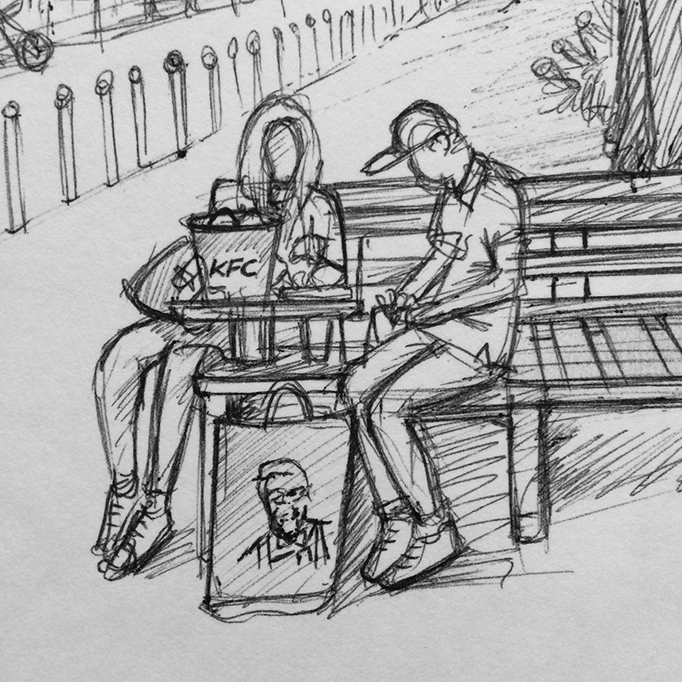 Cafe Rey, Bastille – Got a pretty bangin' Pina Colada here, nice little vibe overlooking the July Column
Space Invader was here, and everywhere else in Paris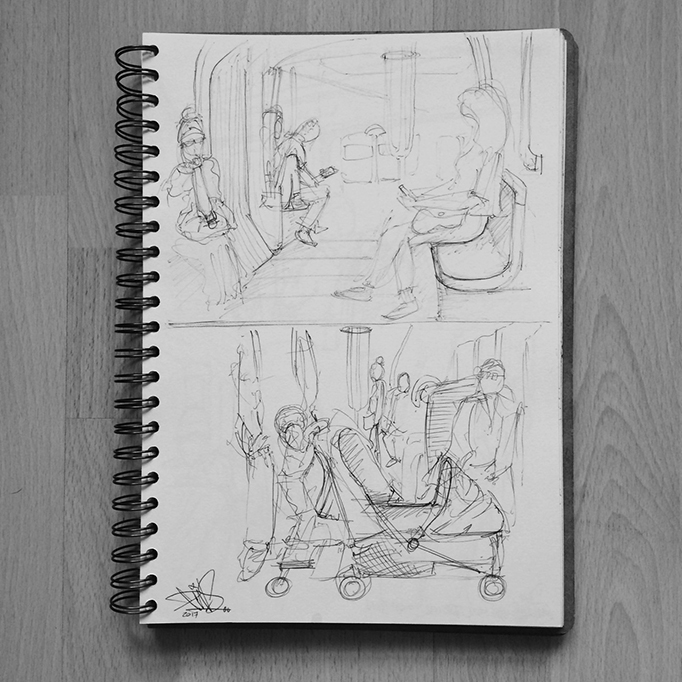 Saint Paul > Concorde train
Dior, Musee Des Arts Decoratifs – Amazing showcase of works by Dior, the interactivity / lighting experience was a bit special too, definitely up there with my all time fav Alexander McQueen show at V&A, and the Commee Des Garcons show at The Met.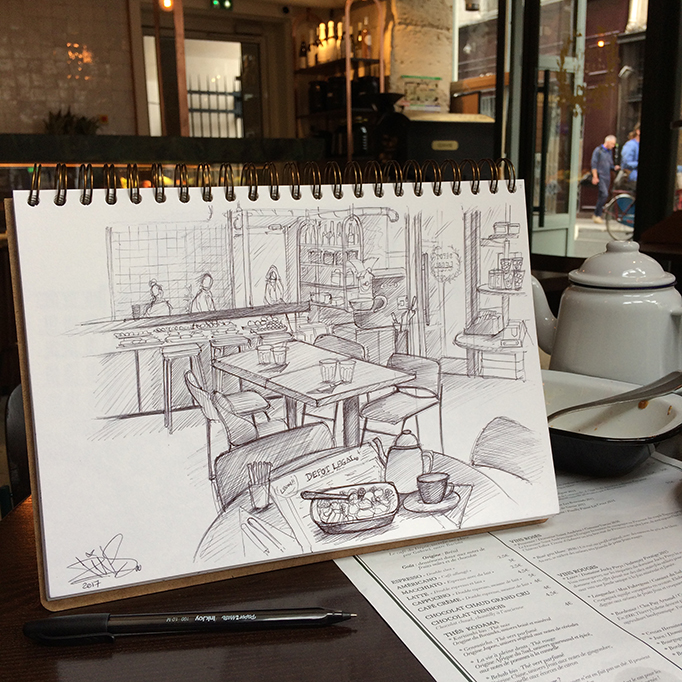 Depot Legal, 6 Rue Des Petits Champs – Sounds like some officey, corporate place, it's not, it's a restaurant by Christophe Adam and they do some pretty bangin' Granola, mmmmmmm 😛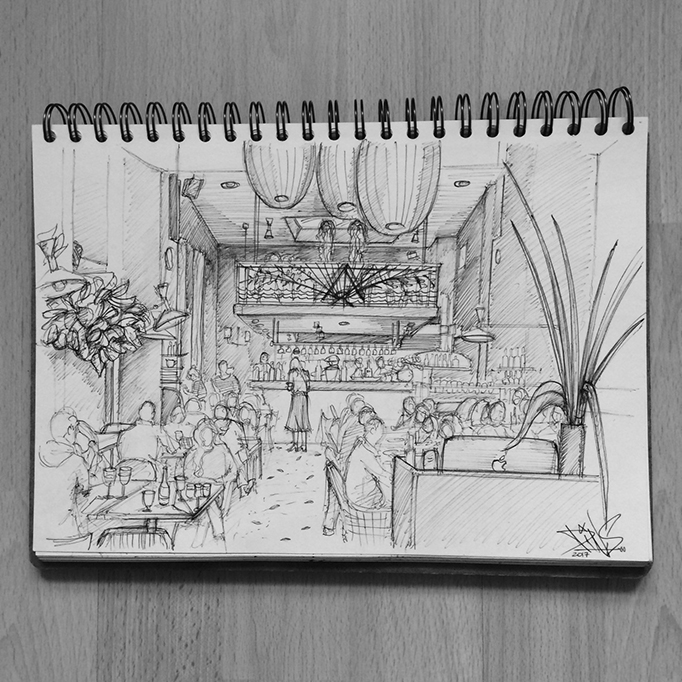 Daroco, 6 Rue Vivienne – Delish decor & Italian food here, shout out to Georgy!
Grand Boulevards > Mairie De Montreuil train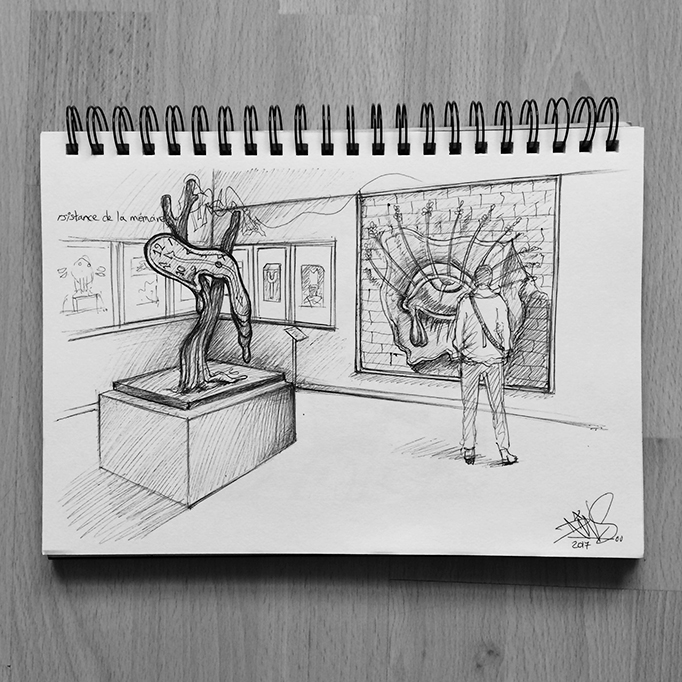 Espace Dali – Great selection of sculpture & prints here but apparently not as POW POW as the space in Barcelona *On list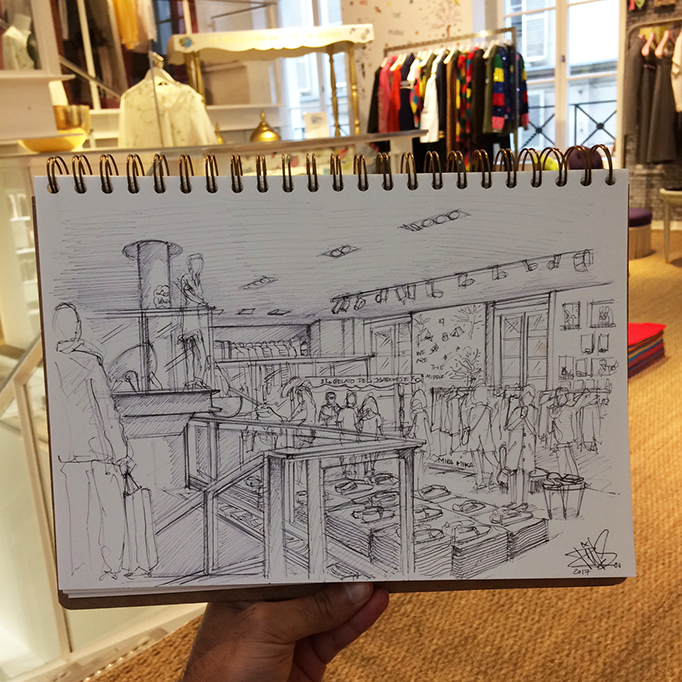 Colette, 213 Rue Saint Honore – Enjoyed visiting the store, shame it's closing doors in December, been a fan of the Colette brand from way back, always admired the curation vibe of the brand, so was sweet meeting the lovely Colette Roussaux herself in-store too, shout out the staff crew too who accommodated the sketching vibe nicely 🙂 *Great Gelato vibe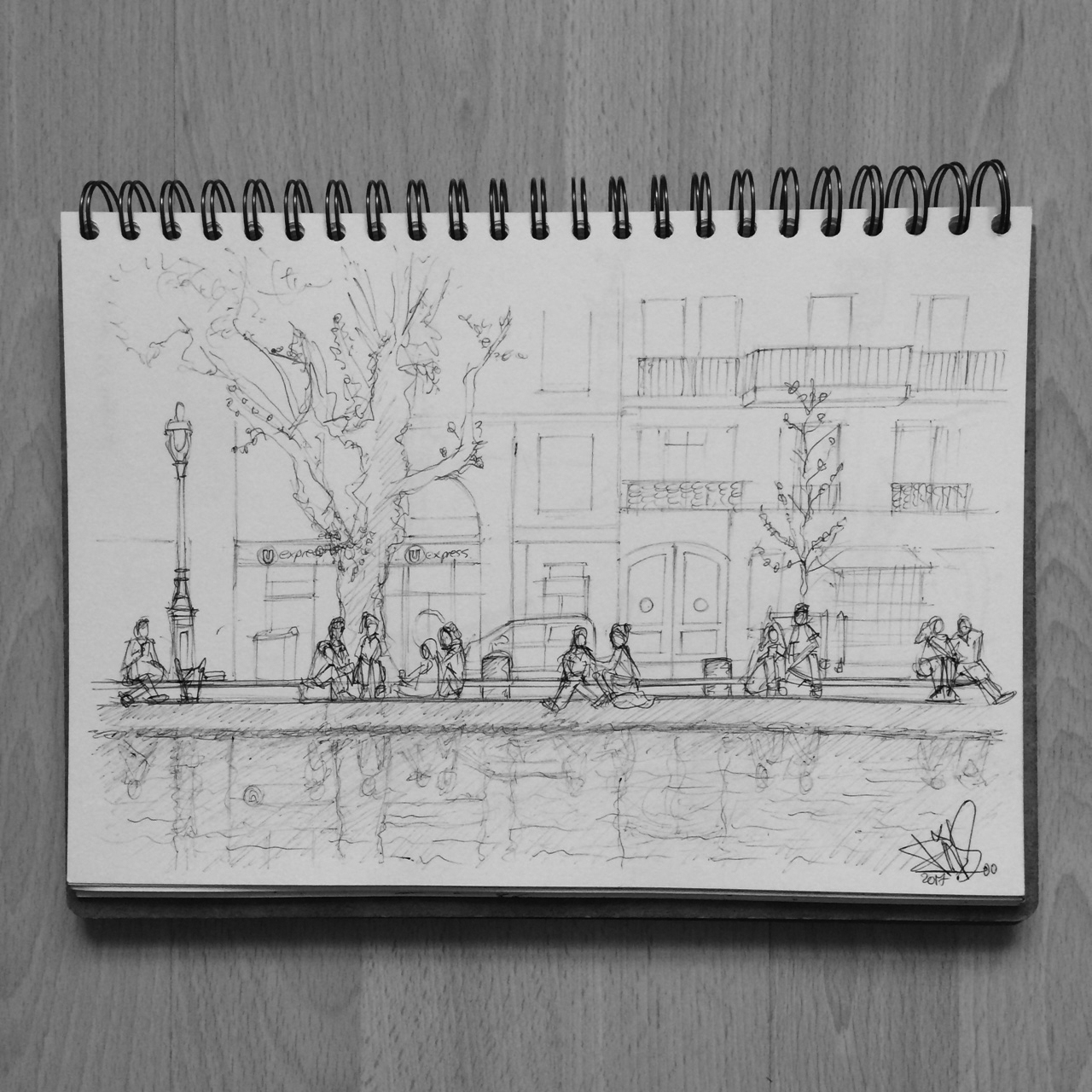 Canal St Martin – Shout out to the talented Narcisz for taking time out of her crazy fashion-work schedule and showing me around some key spots in Pareee, this canal was super chill chill.
Fontaine Des Innocents, Cafe Rive Droit – Great views, shame about the smokers…the amount of times I had to move tables cos the rank fag smell kept coming into my nostrils from all angles as I sketched, erghhhh :0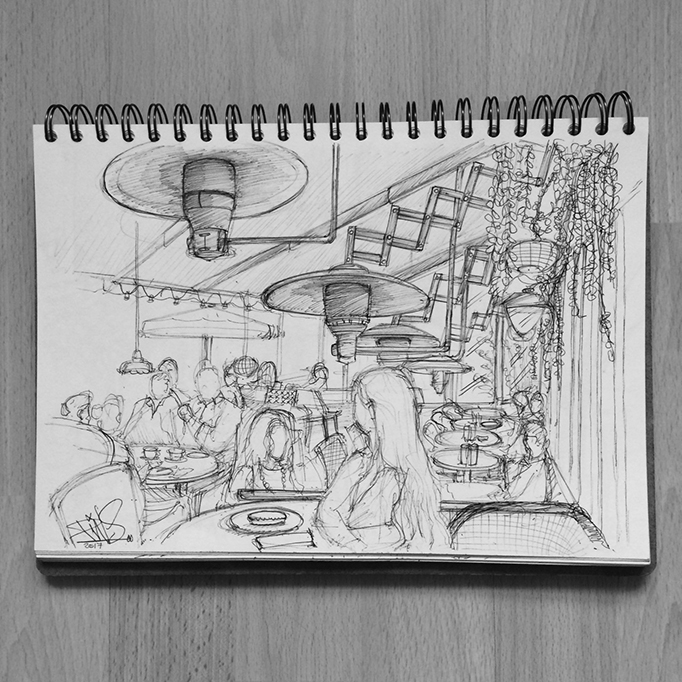 Le Brebant Cafe – Shout to Greg for the super slick service and Georgy on the sketch vibe!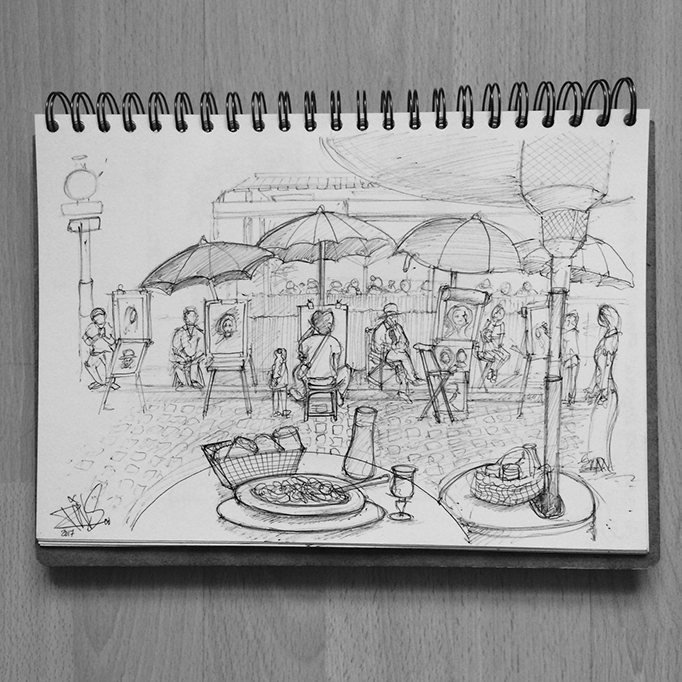 Au Clairon Des Chasseurs Restaurant, Place De Ternes – Lots n lots of live portrait artists in this area, never seen so many in one place, nice energy and spag bol, although a bit tight on the portions :/
Afterdrop – Missed that Supreme / Patta / Cool shit drop? Have no fear, Afterdrop is here and will supply you that freshness, at some pretty fresh prices too…their collection is pretty extensive to say the least, shout out to owner Jdo