HUMAN RIGHTS WORKSHOP – RIDDLESDOWN COLLEGIATE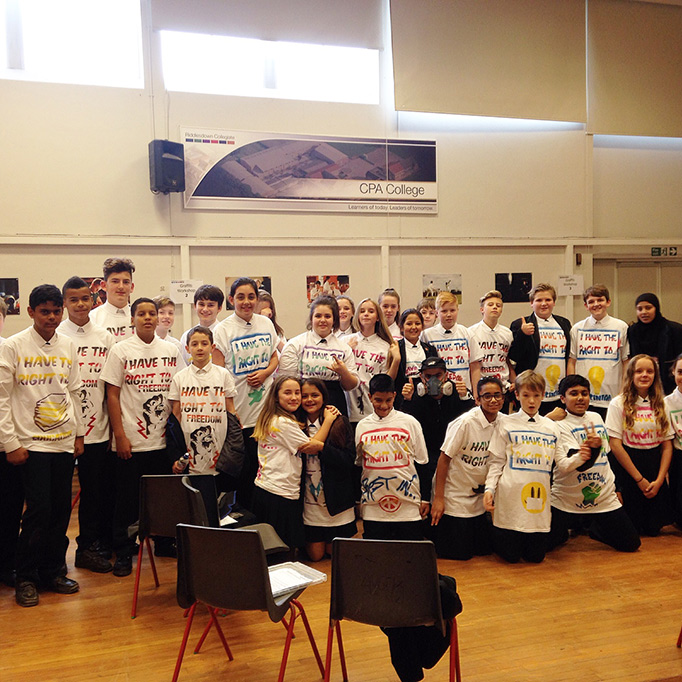 It's always nice when someone asks you back to deliver a workshop based on the amazing delivery you did a year before, and a year before that, and a year before that etc…
So when Pearl, Citizenship Coordinator at Riddlesdown Collegiate, got in touch once again for me and the team to deliver another Human Rights based workshop for their Citizenship and Anti-bullying Week, we were only too happy to oblige.
So, we've run this exact same workshop for over 6 years now, same time in the year, fresh batch of Year 7s, all 350 of them…only last year the Year 7s missed their opportunity due to some cut back on funding or whatever, so this year, the headteacher allowed the students who missed their chance to get their super cool graf tees this year, with them being Year 8 now…
So, this year we had both Year 7s and the Year 8s, around 700+ in total over 4 days, knocking out some seriously positive human rights inspired tees, and have to say, loved every minute of it!
The energy alongside the performance part of the whole activity, always works well, and seeing the fresh faces react to the fresh colour fades with the spray work never fail's to amaze…
A big thank you to Pearl for getting us down again, but an even bigger one to Danielle who ran the whole show in replace of Pearl as she was on maternity leave, so she practically had to make sure the whole thing ran smoothly and on time…never met someone so calm and relaxed in the midst of all the madness, well done Danielle, and for keeping me and the team rehydrated / muffin filled AND for this super sweet message at the end…
Dear PINS, Dapo and Derron,
I would like to take this opportunity to thank you for your support in delivering such a dynamic programme for the Riddlesdown Collegiate Citizenship Human Rights and Anti-bullying Conferences which took place from Tuesday 10th November – Friday 13th November 2015. It was a wonderful event for students, staff and professionals from our local community to come together. The event defiantly allowed students to explore the concept of human rights and their correlation to countries wealth through the amazing workshops that were on offer. Furthermore, the human rights auction encouraged them to express their views on the importance of human rights. Your workshops allowed our students to work confidently with others, adapting to different contexts and taking responsibility for their own roles. They listened to each other and took account of different views. Additionally, they formed collaborative relationships, resolving issues to reach agreed outcomes which was pleasing to see.
I look forward to working with you again in the future.
Danielle Woolman
Assistant Director of Learning of PSHEE & Sociology
Big thanks to the lovely dinner ladies who fed us, Sue (mains), Sarah (Desserts, ooooh the Apple Crumble/Custard & Lemon Drizz Cake) and Nicky who took our orders…man I love school dinners!
A special shout out to Louise on the marketing side, all the super cool staff who all dressed pretty super cool too, and the lovely reception ladies who welcomed us in with smiles and cheeky banter, sweet!
Nothing but great words to say about our time here, and the icing on the donut came when we met the 6th formers who we actually made t-shirts for when they were in Year 7, so basically 6/7 years on, they were helping us out run the workshop this year, so weird yet so cool! So big thanks to Sophie, Ollie, Lauren, Hannah and Louise for helping out…
Lastly, my team Derron (graphic design heavyweight) & Dapo / @DapsDraws (Illustration Heavyweight) for coming through once again, no fuss, just straight positive, creative knock-out vibes!
Until next year 🙂
P