WOMEN IN REVOLT! @ TATE BRITAIN – BHAJAN HUNJAN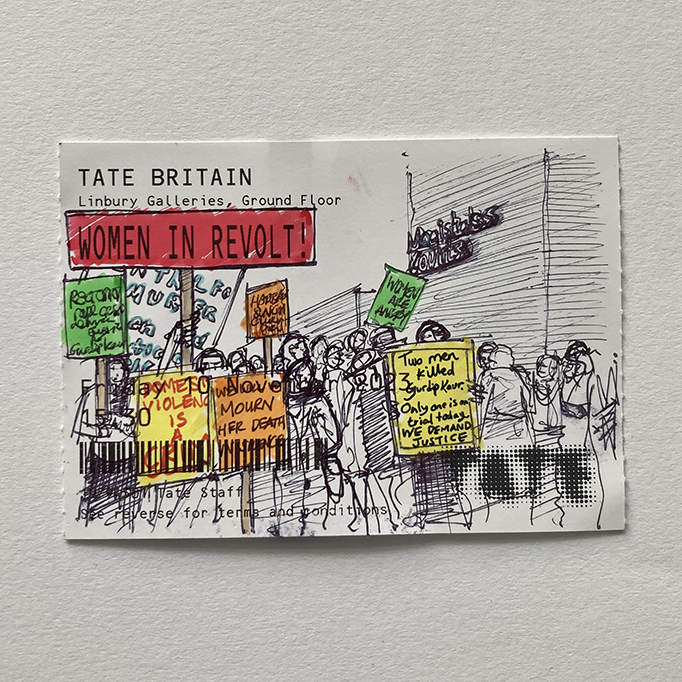 It's Diwali season, and thought i'd shine some light on fellow South Asian artist Bhajan Hunjan.
I met Bhajan a couple years ago randomly at the Tate Members Cafe. I was perched with a coffee & sketchbook, wearing a bright blue turban, thinking I really wanted that Lemon Drizzle slice but didn't want to spend £5.95! The turban clearly prompted the connection to our South Asian roots & we started chatting. I was inspired by Bhajan's journey from Kenya to the UK, trying to establish herself as an artist, often going against social expectations and cultural conventions. In 1981, Bhajan was a pivotal force, along with Chila Kumari Singh Burman, behind 'Four Indian Women Artists' exhibition, the first of it's kind in the UK being organised by & featuring women of colour.
Since then, Bhajan has continued her practice, using materials often inspired by childhood memories in creative ways, working with various communities in the public realm & inspiring other South Asian groups in the process…
"I'm there as a role model for someone who might want to express themselves just a little, I can't resolve anything, but I can sow a seed."
Bhajan's artwork is currently on display in the exhibition 'Women In Revolt!' at Tate Britain until 7th April 2024
–
'Protesting against domestic violence & demanding justice for Gurdip Kaur'
Ink & marker on Tate ticket, 107 x 76mm,
By PiNS, 2023
*Based on photograph by Bhajan Hunjan, 1986
–
P