REFLECTIONS – TECH IT EASY, ART EXHIBITION @ BRIXTON TATE LIBRARY
I feel shattered. Not in a bad way, more a feeling of giving your all to something you believe in & love doing, connecting with people through my art…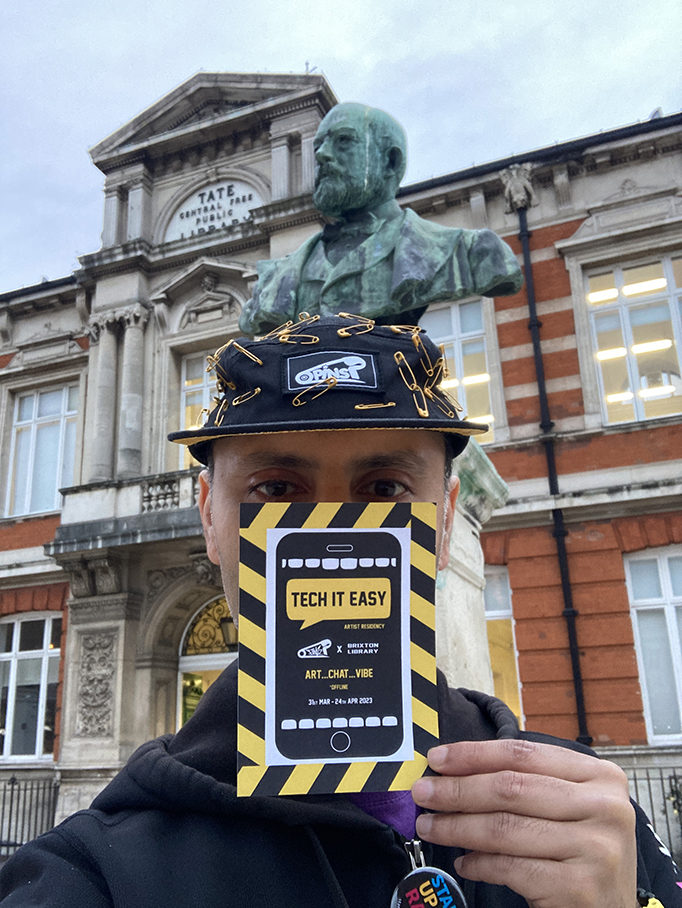 My artist residency at Brixton Library / Gallery was abit special, so thought I'd go beyond the Gram and actually put down some real weight on a proper blog post, considering the whole premise of the residency was to raise awareness of using too much tech / instant this / instant that, I wanted to capture the moments lived in a more meaningful way, beyond the up down scrolls & quick fire likes on a phone. Yes I'm using an Apple Mac for this post, I know it's 'tech', but I didn't have a typewriter to hand…allow me.
Only a couple months ago I remember dropping off one of my iQueeny silkscreen print to the Paxton Centre / Café down in Crystal Palace & seeing an artwork by artist Jo Gibbs which caught my eye. As you do, I took a pic and shared it on my Insta story. Ps, if it appears on my Story, it's a vibe. Anyway Jo saw it, said thankyou & we stayed connected. Couple weeks on Jo invites me to one Private View at Brixton Library where the artist Jez aka Surfacenoise is exhibiting his work, I thought why not, so popped down. Turns out, Jez is a blessed dude, his artwork sick and we connected. I also got a chance to meet Rosella who curates the arts programming in the space, her energy was next level, a real passion for the Arts I felt – she loved my custom Levis jacket too which was nice, we connected.
I say all this to say…for me, life is about organic connections without forcing them, like droplets of water running free down the windscreen at a carwash, drop to drop, merging into each other, becoming a bigger droplet or just whizzing through, drop to drop…"Be Water My Friend" *Bruce Lee voice ere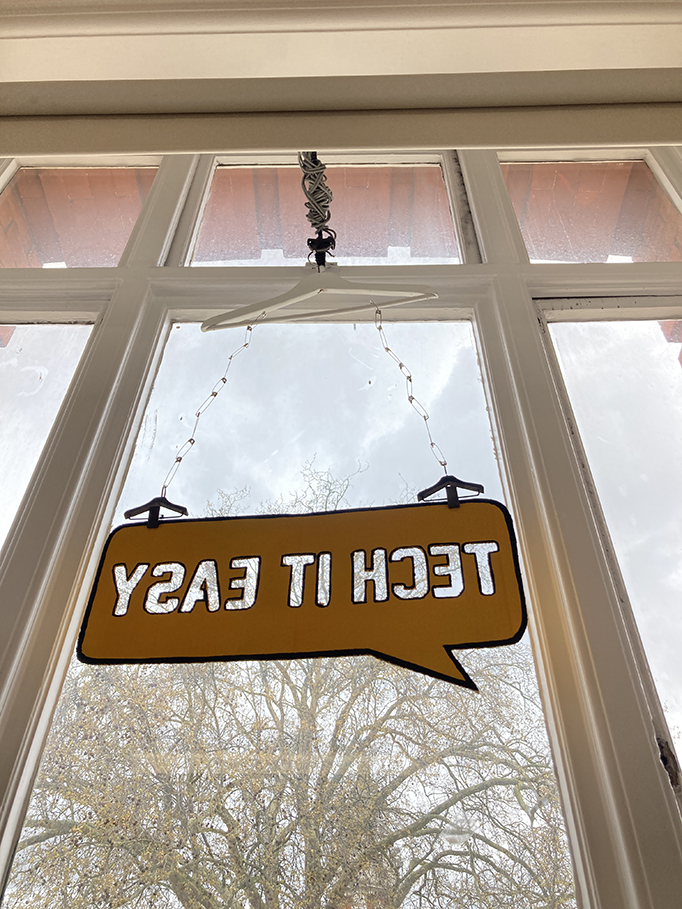 Fast forward a couple emails and here we are…Tech It Easy, more residency than just exhibition, a chance to really feel the concentrated energy of a space by being in the space daily, in one of the most centralised spots in London – in a pop-up, super adaptable way, I couldn't quite ask for anything more – stimulus on blast!
For almost the entire month of April, I would jump off the 250 bus at Lambeth Town Hall bus stop and walk across to the Library, handing out flyers to whomever I felt a nudge towards, approaching the bottle green entrance doors, often having to wait for them to open, like the rest of the committed Brixtonites, itching to return a book, grab a desk, surf the net, whatever. The bells ring, the doors open. We in…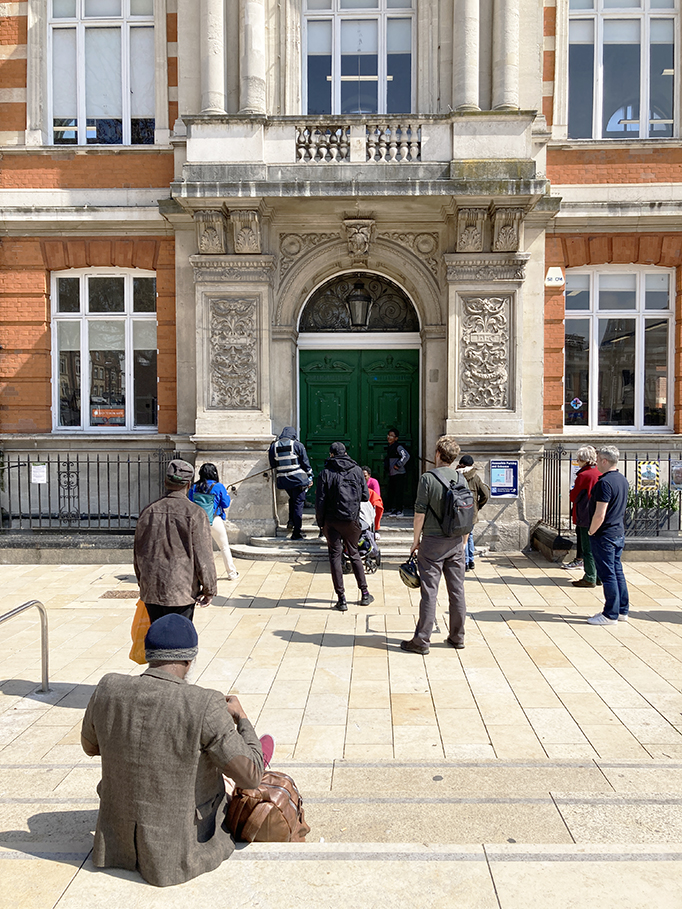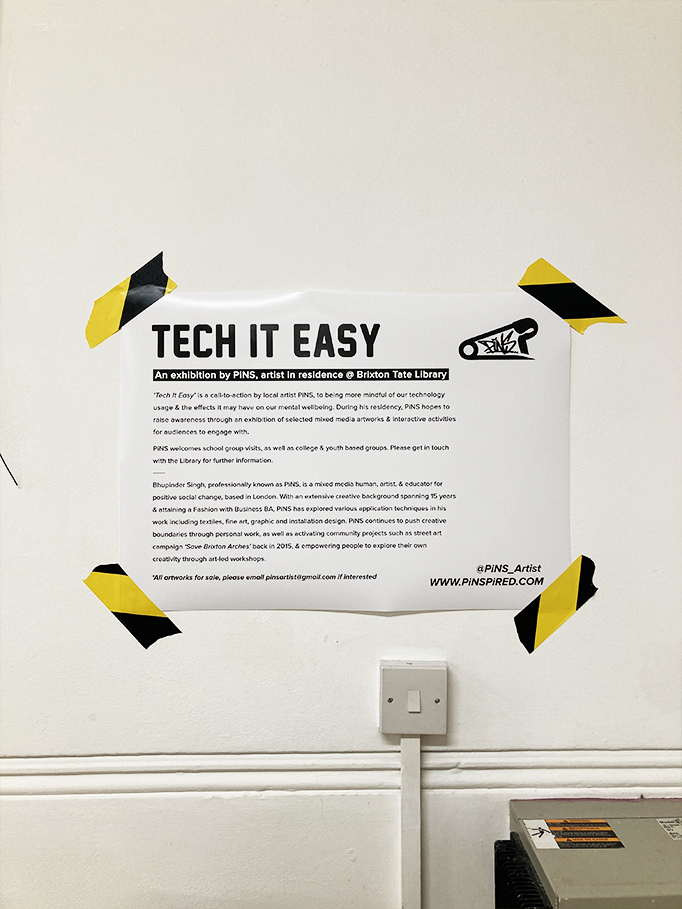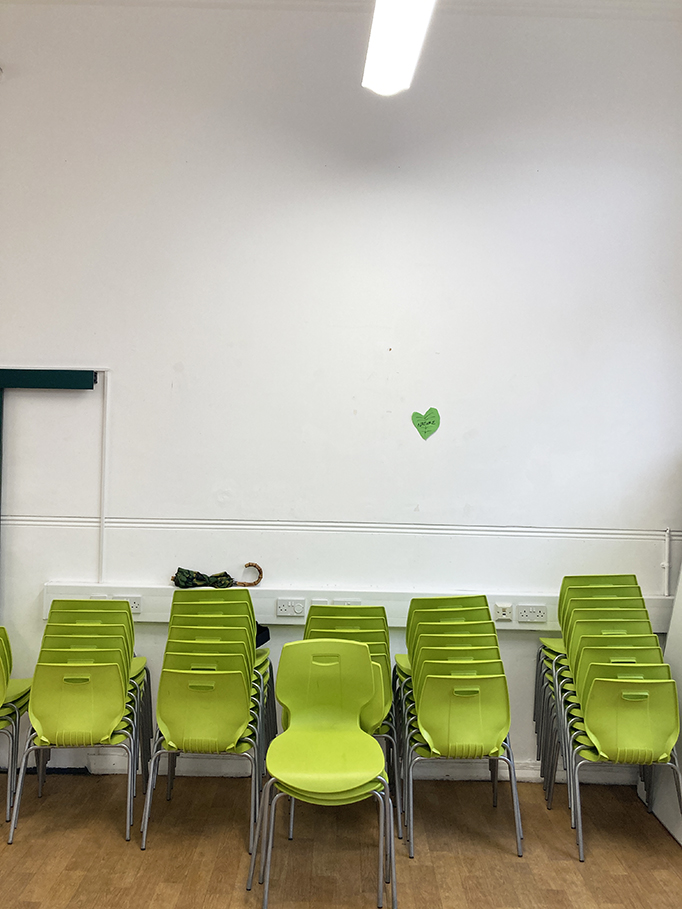 Things I loved…
> No two days were the same as the gallery space activated various events / hired out functions such as book launches / Tai Chi classes / author talks / Lambeth council meetings etc, whilst my work was up around the space, bringing fresh eyeballs to my work each time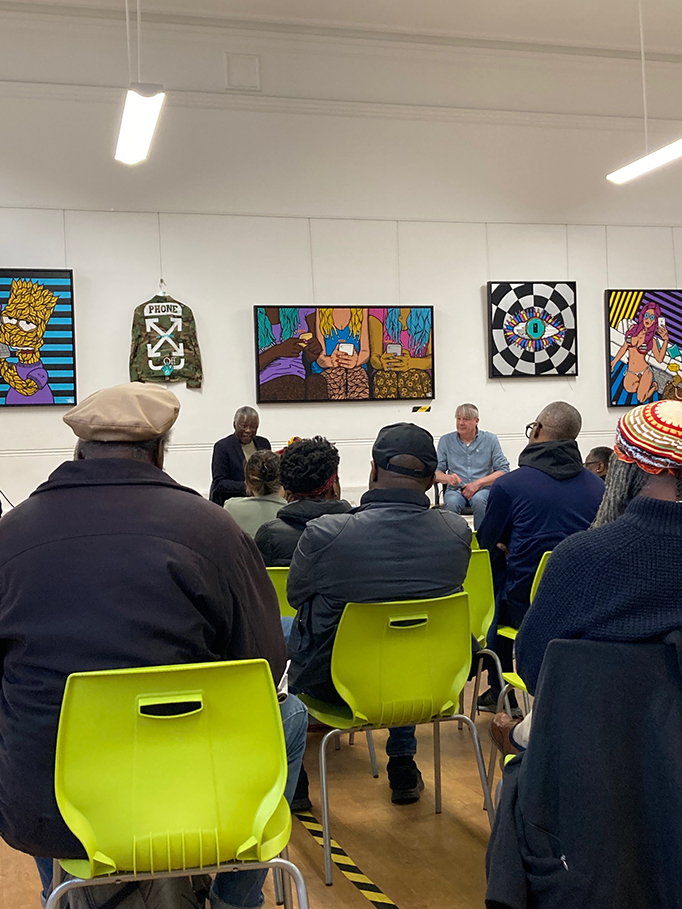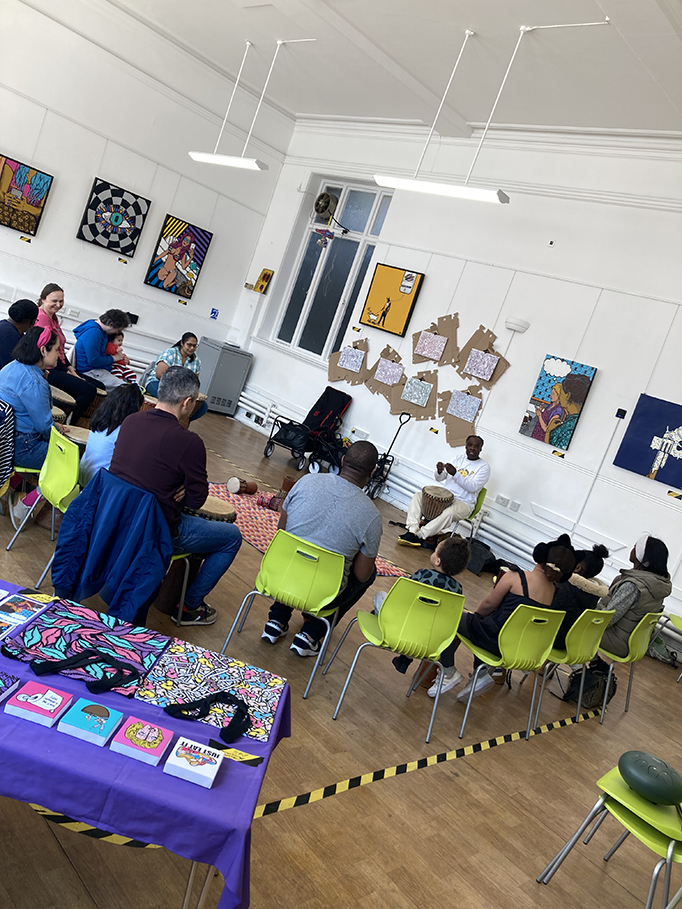 > The randomness of characters which entered the building & hearing the most randomest of stories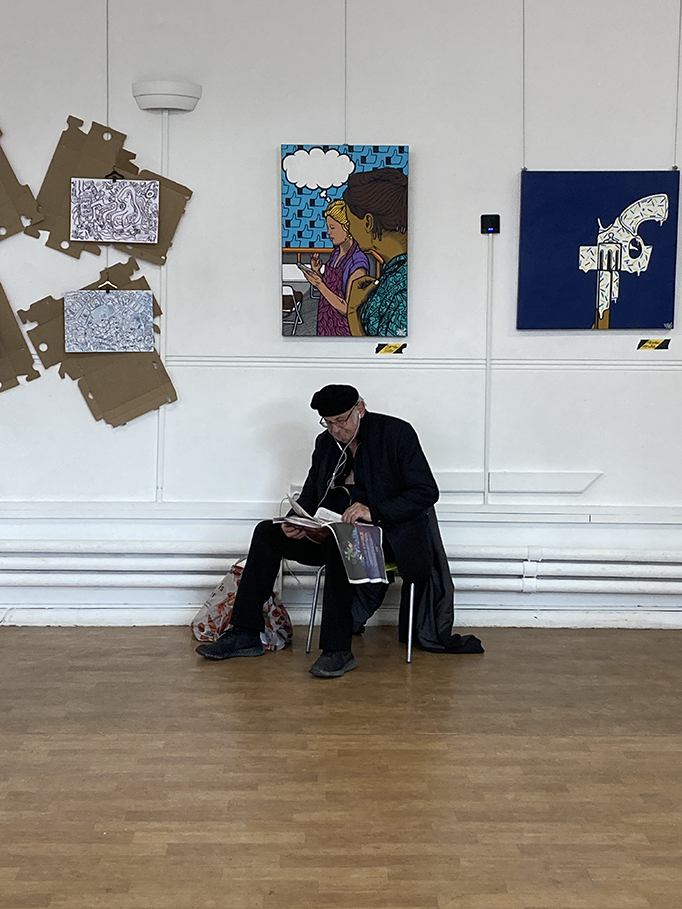 > The electric sounds of Brixton blaring through the windows
> The smug face of a particular security guard at the start, which turned to a smiley face towards the end of my time there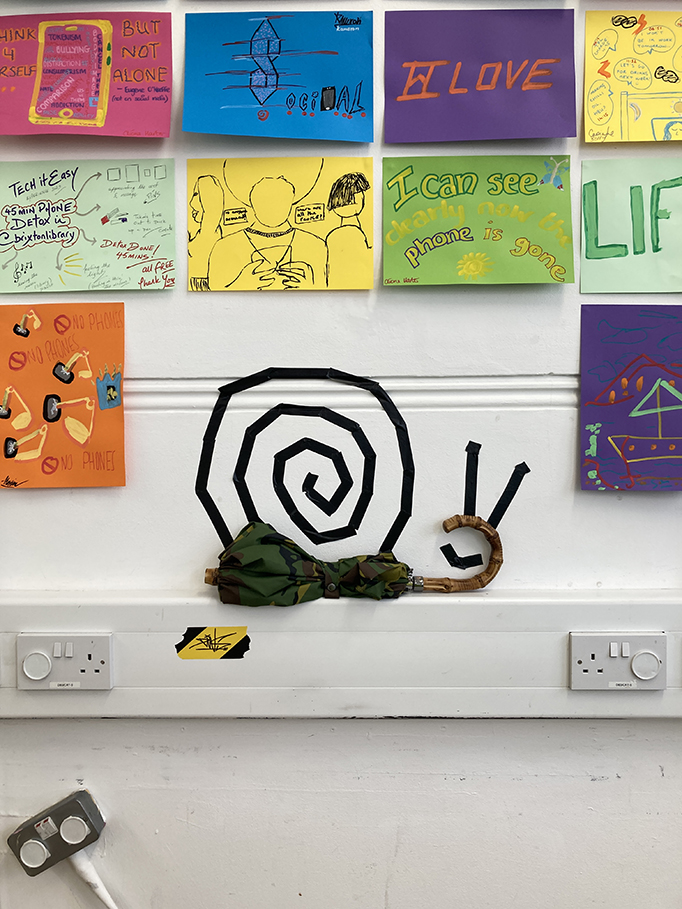 > The feeling of certain staff not quite knowing what it was (the artwork / exhibition), yet developing a deep sense of curiosity from afar
> Making connections & changing perceptions daily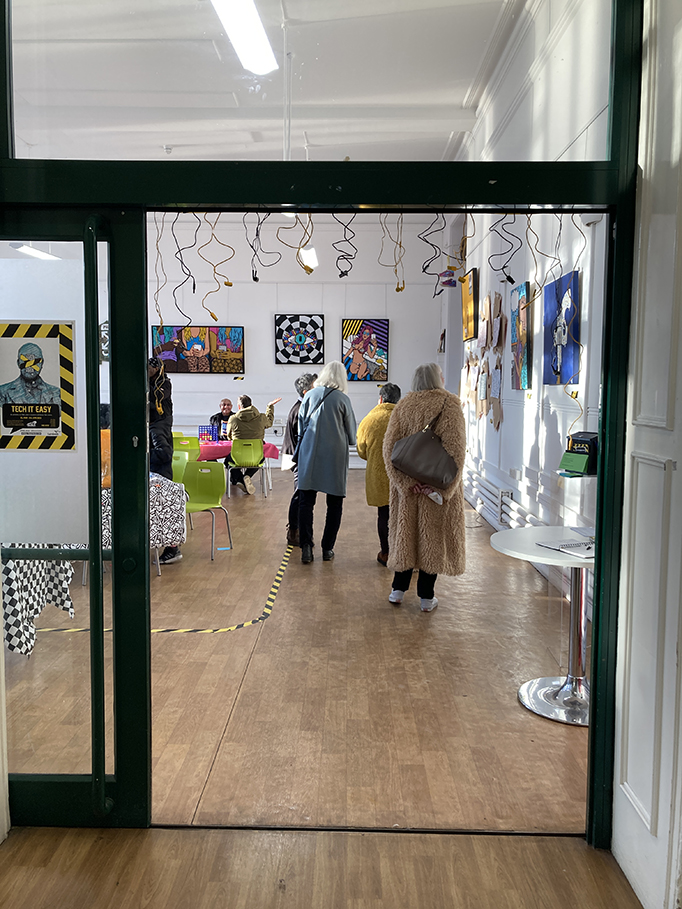 > Prompting people to come into the space as they left the library, with them showing a slight reluctance to enter the space, yet when they came in, they stayed & felt the vibe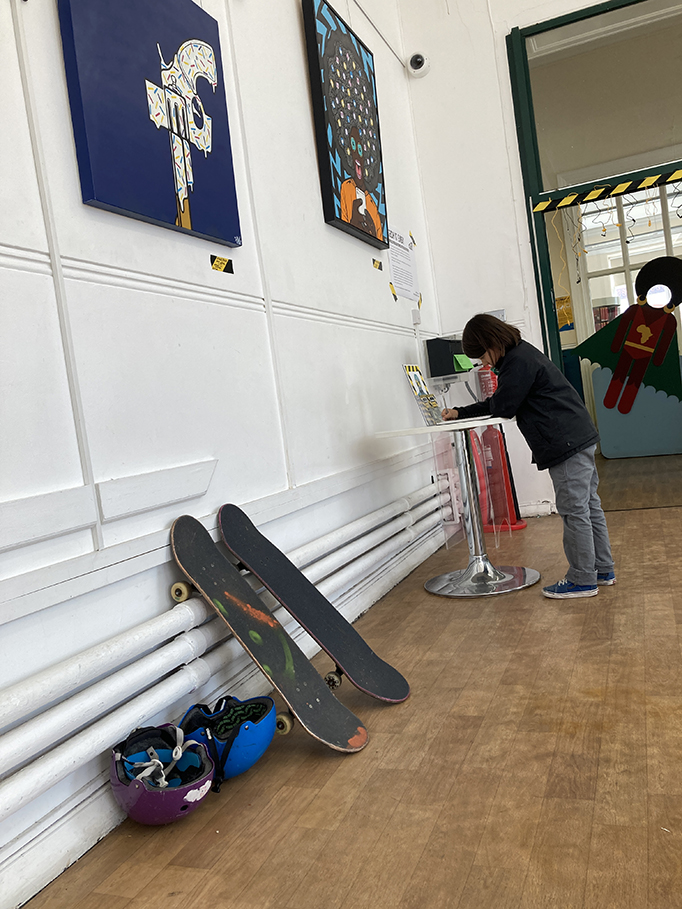 > Meeting the everyday characters who were literally on the breadline, using the space to facilitate basic needs like charging their phone, using the internet, sorting life shiz & simply exchanging dialogue with them in a human way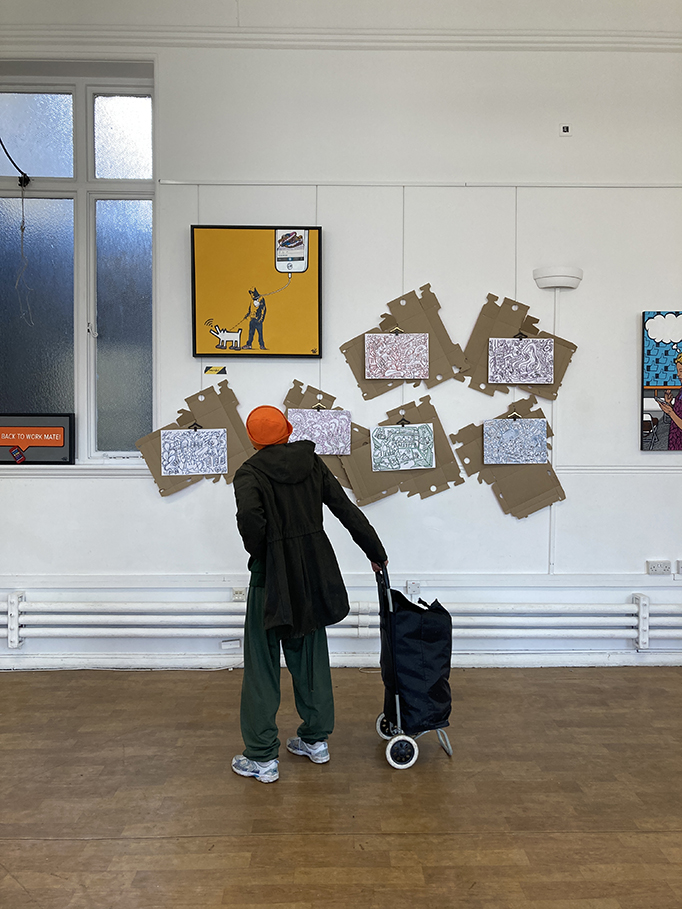 > Collaborating with library staff to run arts & craft workshops in the space which complimented the whole vibe
> Collaborating with Tony aka Happy Drums on some impromptu flex through spoken word & drumming workshop which uplifted the energy in the room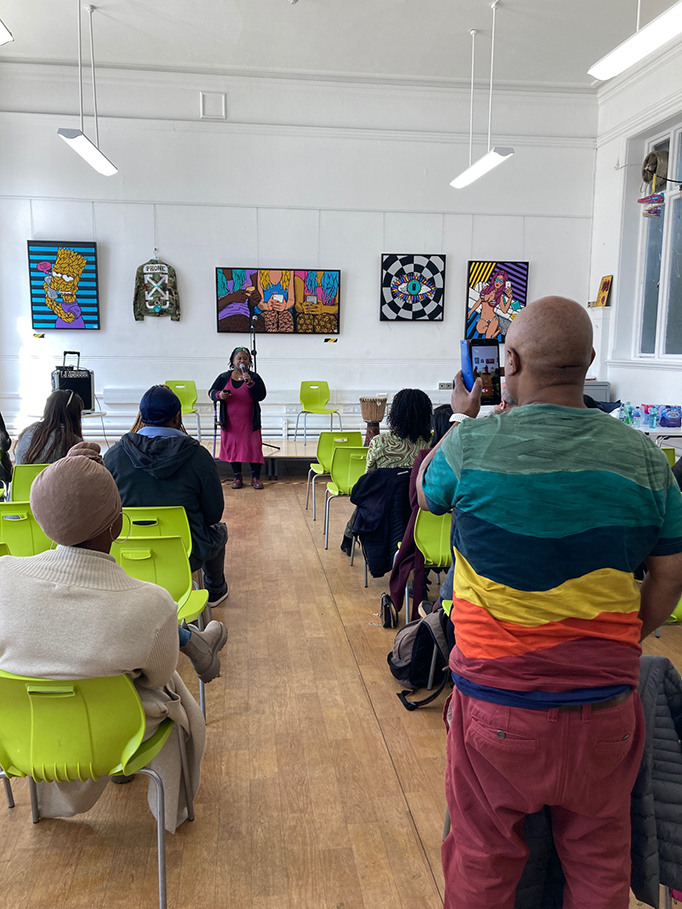 > Meeting cool tour guides who regularly ushered in groups from international schools / colleges once they were made aware the exhibition was on & I was present to welcome them with an artist talk about my work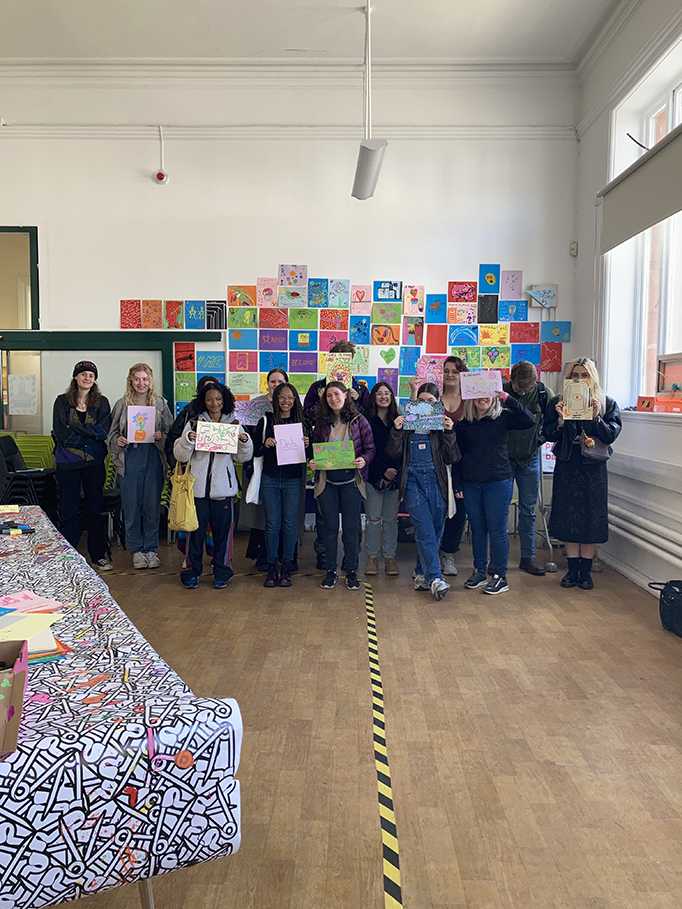 > Having people respond to the artworks on show through their own artistic interpretations, forming a larger collective artwork which filled the space beautifully, aptly entitled 'Blu Tack It Easy' Gallery, had to 🙂
> The space was open daily which allowed regular footfall and flexibility on visiting times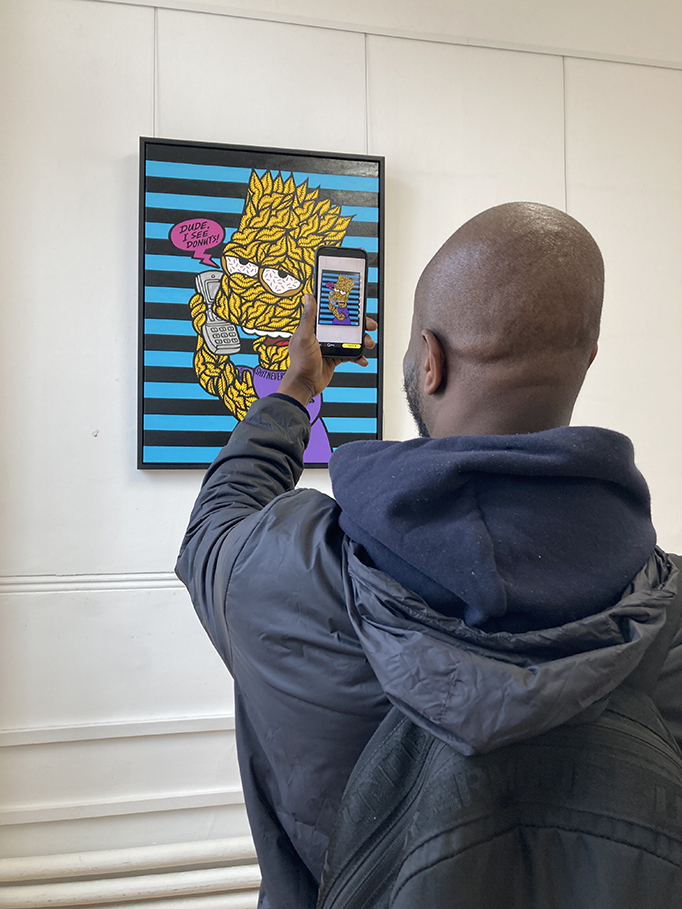 > When some of the local kids helped me flyer out front and get people in, whilst also manning the space including giving art tours when needed to random impressed Jo's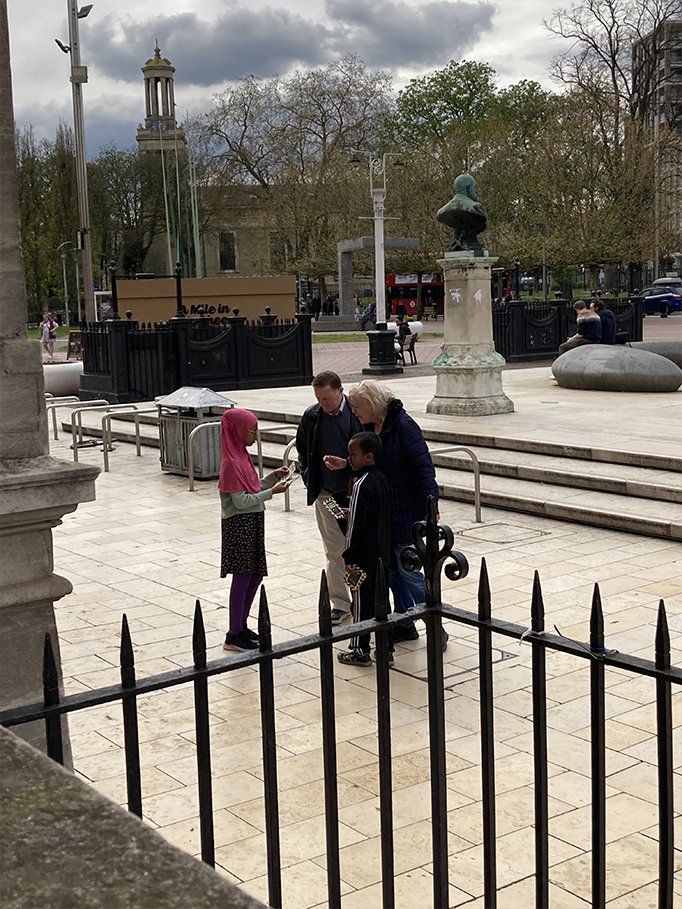 > Watching people young & old playing Connect 4 like it was the best thing ever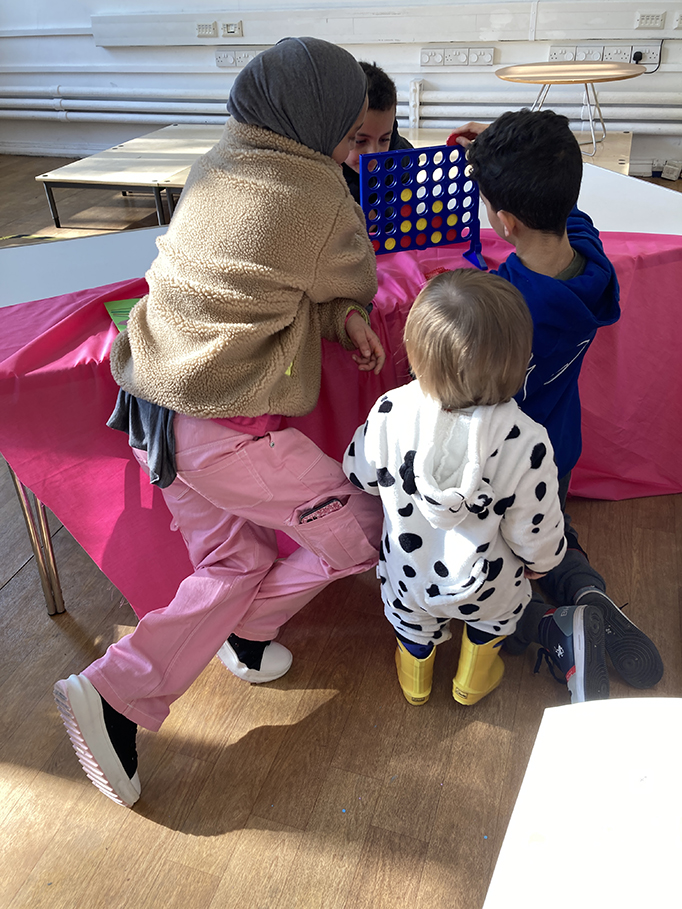 > Watching people who said they couldn't draw, then them staying for like an hour drawing
> Having these triangle convo's with random Jo's, basically three people spaced out like a triangle, chatting away about whatever, proper engaged *Of course my convo's were engaging regardless of shape etc, it was just these triangle shaped one's seemed to be a regular thing *Power of 3 mate
> Selling postcards, as it was the first time I'd ever printed them
> Intellectualites coming in not quite sure what they were looking at, but in deep thought, trying to make sense of the artwork, then some kids run in towards the paper / pens & scream "COLOURING IN!" breaking up the silence, ha *Mash up vibes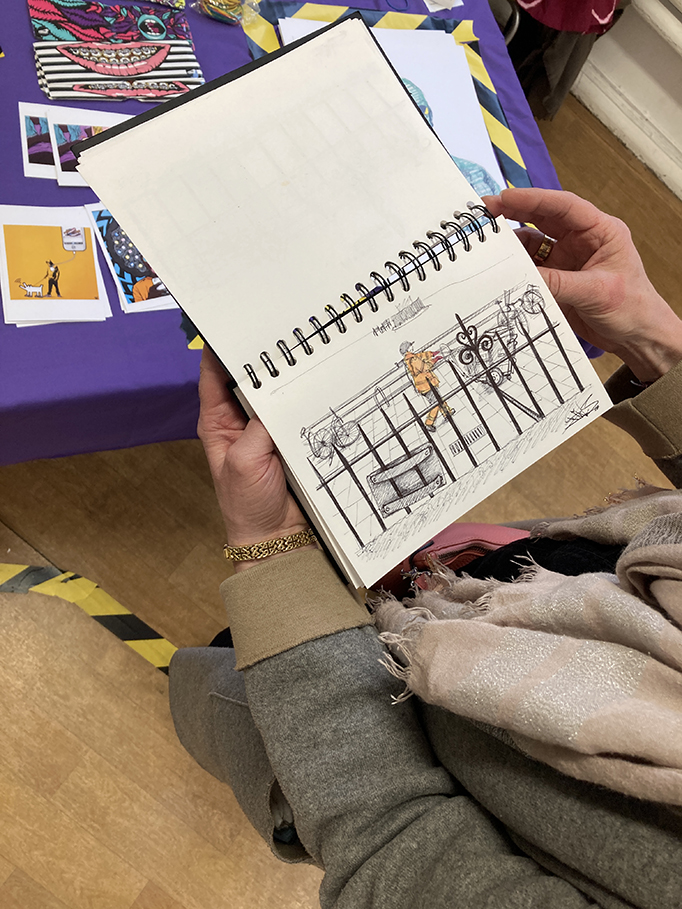 > My regular visits to Ritzy next door, almost becoming part of the furniture, sketching away, sipping green tea's, munching some delish Rani Wraps from En Root (the vegan spot housed there), meeting some interesting folk & perching on the benches outside especially when the sun beamed nice.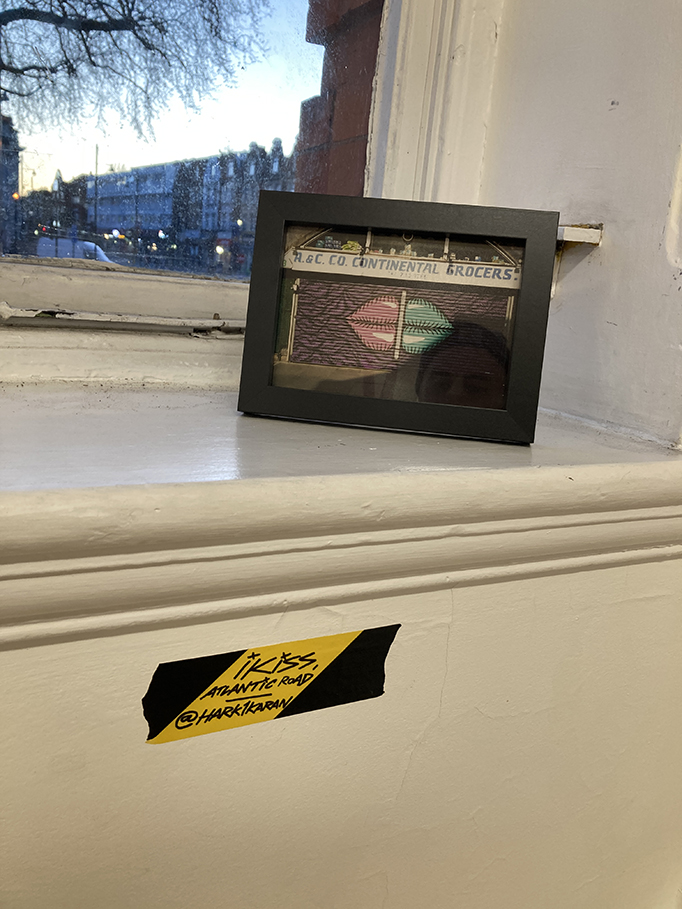 > Perching near the windows in the Library space, looking out and simply watching Brixton go by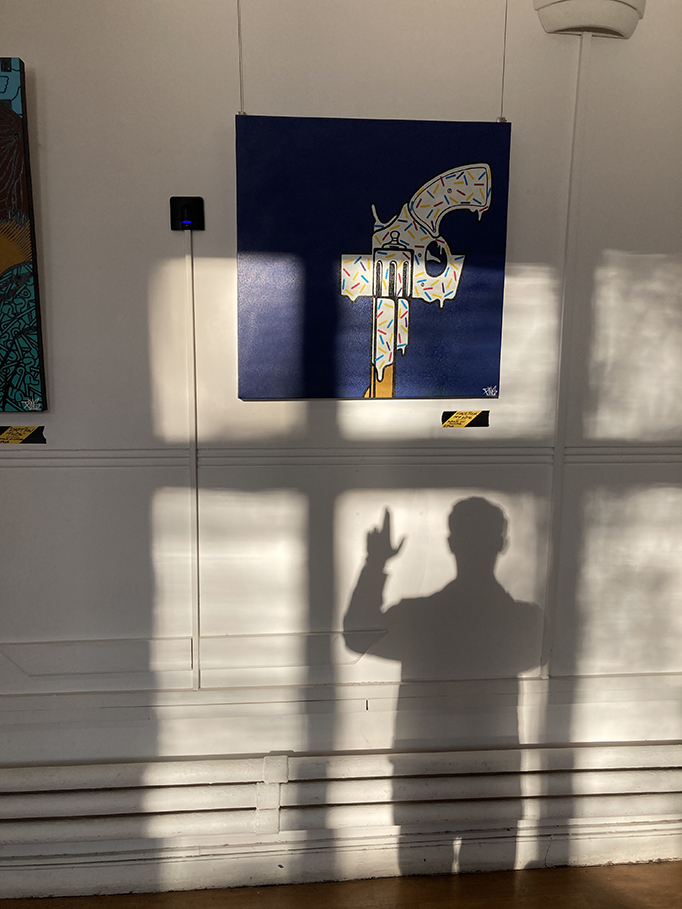 Overall, CANNOT COMPLAIN, this was by far one of the most interesting experiences of 'holding public space' in a Library environment since all my projects so far, and something which I feel has provided me with enough juice for the next chapter, however that may play out…
THANKYOUs
Rosella Black – Every artist needs a Ros. Her enthusiasm, her wit, her vibe for all things art is something I welcomed & appreciated. She went above & beyond to ensure things ran smoothly for me in every aspect of creative delivery. Thankyou Ros for going with your instinct and giving a local lad the opportunity to do my thing.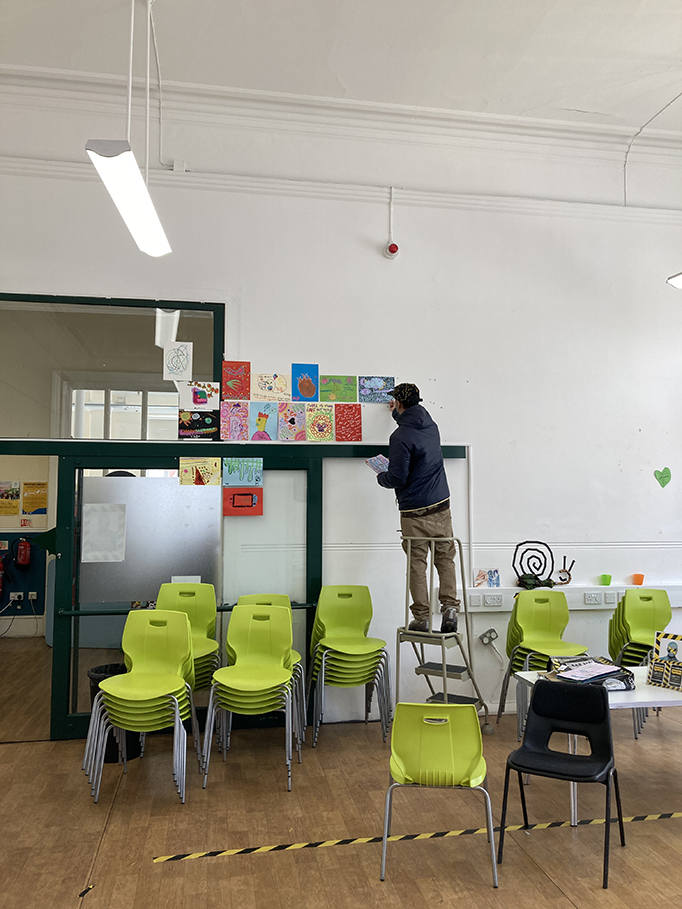 Caroline Graham, Library Manager – Caroline has this can do spirit which I fully rate and what Brixton Library needs – the management of people / vibes at times in that place can be a madness, so after 20 years of being in the game, if it aint broke you, it's solidified a next level of people / vibe management you can't quite put into words – Caroline has that & we thank her for it & for this pic she took of me taking down the work 🙂
Michael / Mark / Ian – Van delivery team, couple chats on the drive to and from Brixton, proper sowf landaan chin waggin' as we do.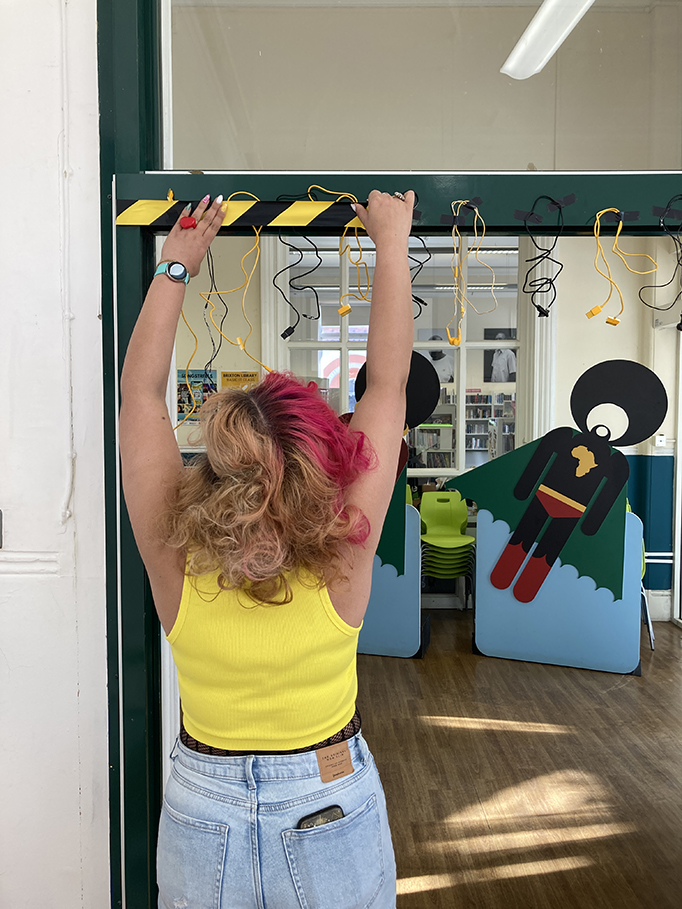 Jenny Super – for being there in her unique way to provide creative assistance and support when in need x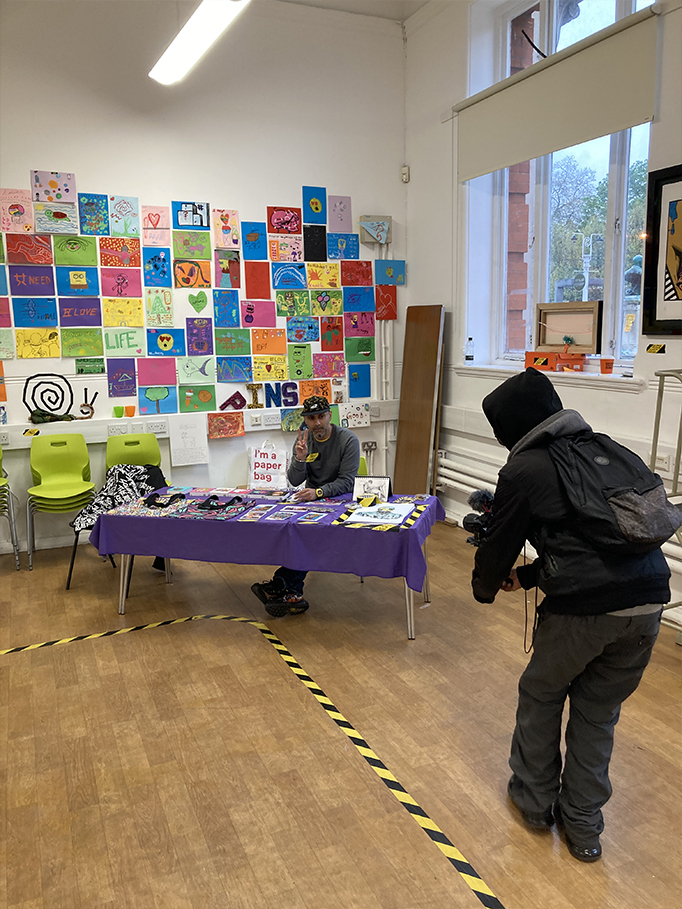 Mike – for documenting the journey so far through slick edits, meaningful captures & constantly honing his craft…can't knock the hustle mate.
Dubtician – for sharing an actual simran (deep, melodic, spiritual Punjabi meditation) on stage in the middle of my exhibition during Tony 'Happy Drums' legendary Spoken Word event – pure vibes!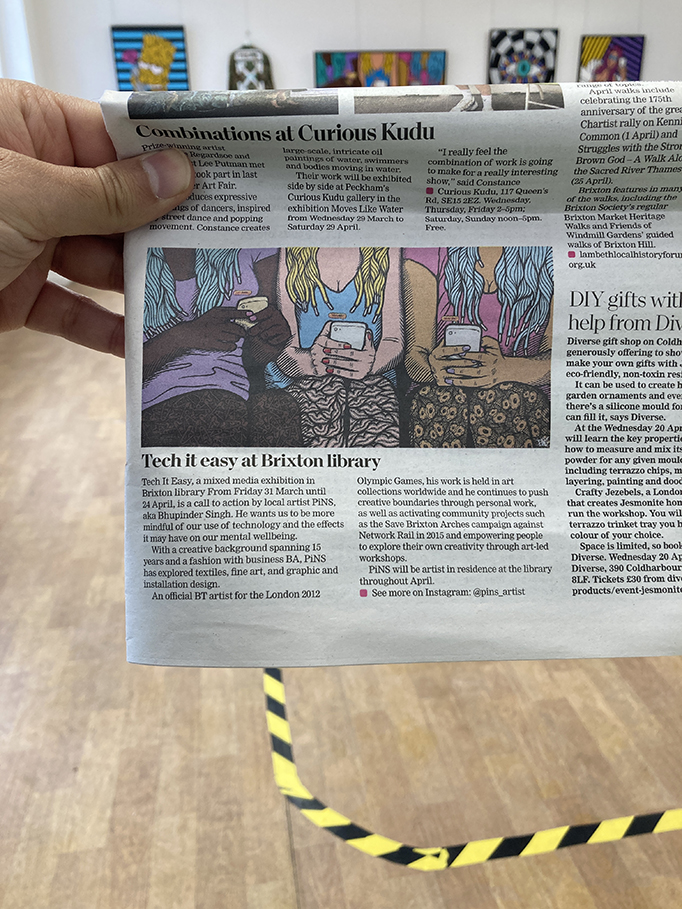 Everyone else – who passed through, young & gold, blessed the vibes & contributed to my 'Blu Tack It Easy' gallery wall throughout the month…until next time…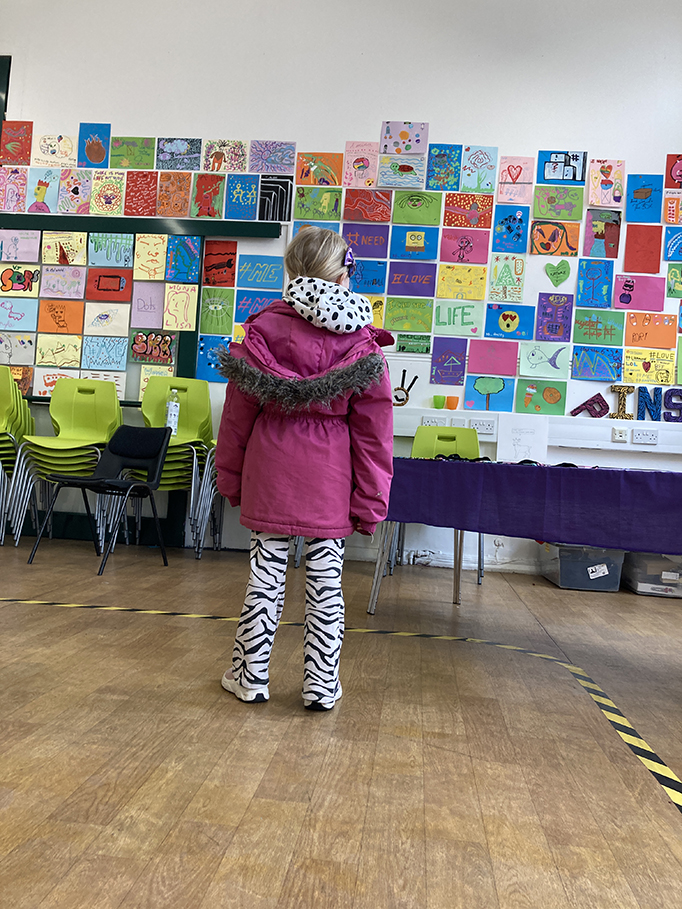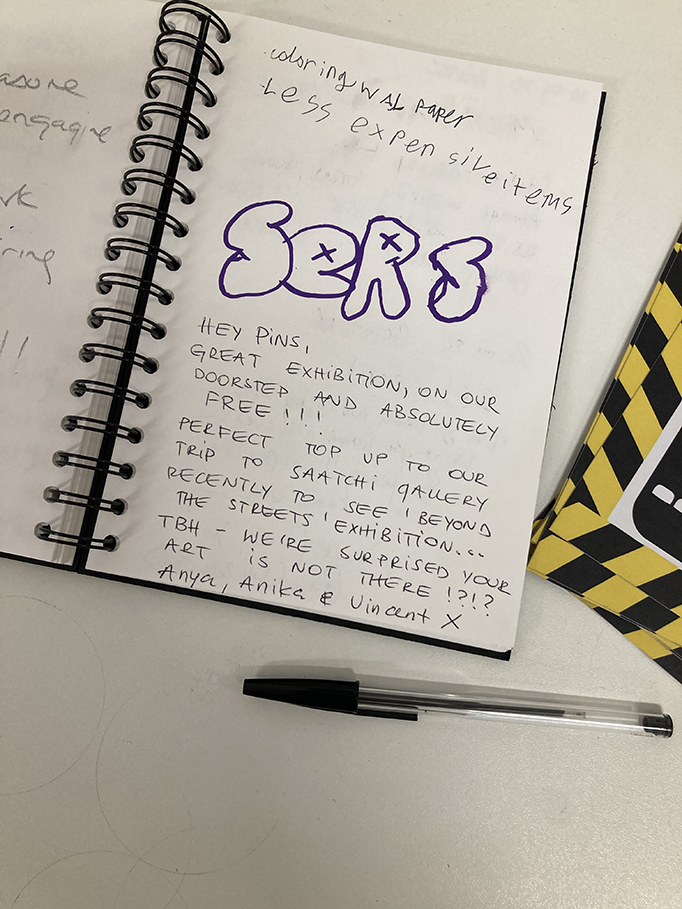 TECH IT EASY
P