HANG IN THERE – PINStallation @ Salvation Army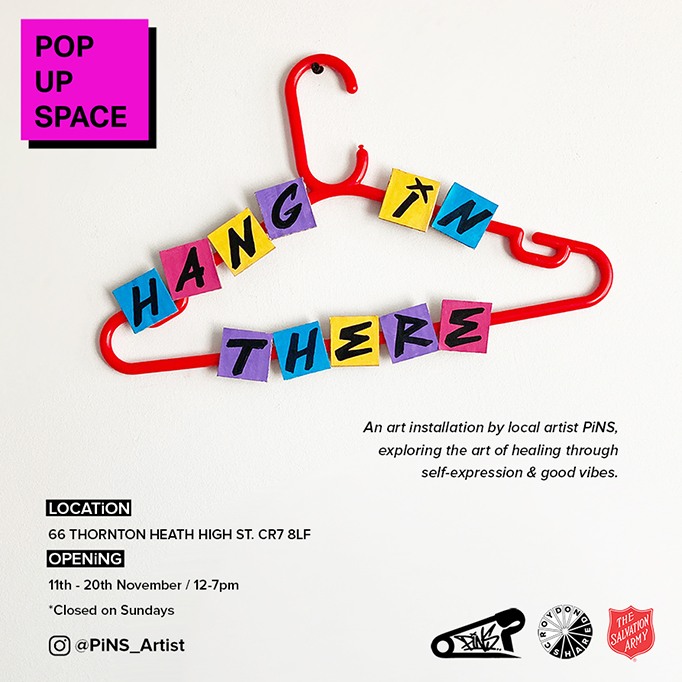 "If it aint easy, make it easy"
Mum said that
PiNStory
So back when I was a wee nipper, mum used to take us to the local Salvation Army in Croydon, the one near the main flyover, after school and on weekends for a kinda youth club based there. I remember a biggish hall, a tuck shop with all the freshest sweets, snooker / pool tables, arts n craft options, 5-a-side footy, basically a 'vibe' for any kid with bags of energy. It was a safe zone with creative outlets where you could just be and connect with like-minded peeps.
Fast fwd to now, myself & fellow local designer Samantha Warren who run @croydonshared together, linked up with our local Thornton Heath Salvation Army to activate their shop space with a series of pop-ups in the hope to uplift the local community through bags of creativity energy…
Samantha kicked off things with her @sceneincroydon pop-up a week ago & I'll be launching mine this Thursday 11th Nov / 12-7pm each day apart from Sundays til 20th Nov – I'll be creating site-specific work in the space throughout the duration, responding to 2nd hand wares they used to sell in the shop & general vibes of the Endz each day, with a Pinteractive element for you to bless up the space with too…
PEEPS WHO SHOULD POP BY:
Students who need motivation
The creatively curious
Fellow collaborators
Xmas purchasers
The Bored
You
DONATIONS
I'll have products on sale in-store, with donations from each sale going towards Salvation Army.
FINALLY…
It's my first local pop-up in the Endz
So please pop by my friends,
Support a local artist &
Cop ya self a couple,
Arty gems 🙂
P