VOTES FOR WOMEN – 100 YEARS BANNERS PROJECT
I went along to the recent private view of 'Croydon School Of Art' at the Museum of Croydon, which celebrates its 150th anniversary as one of Croydon's key cultural institutions, and came across some pretty looking banners draped across the tables…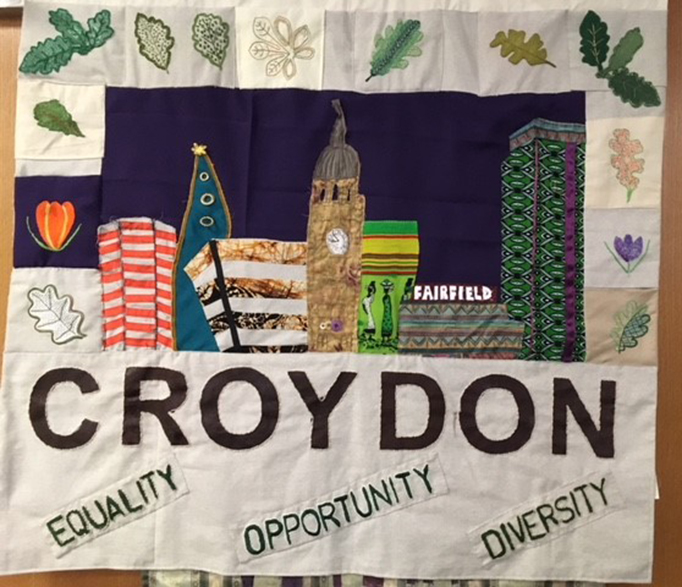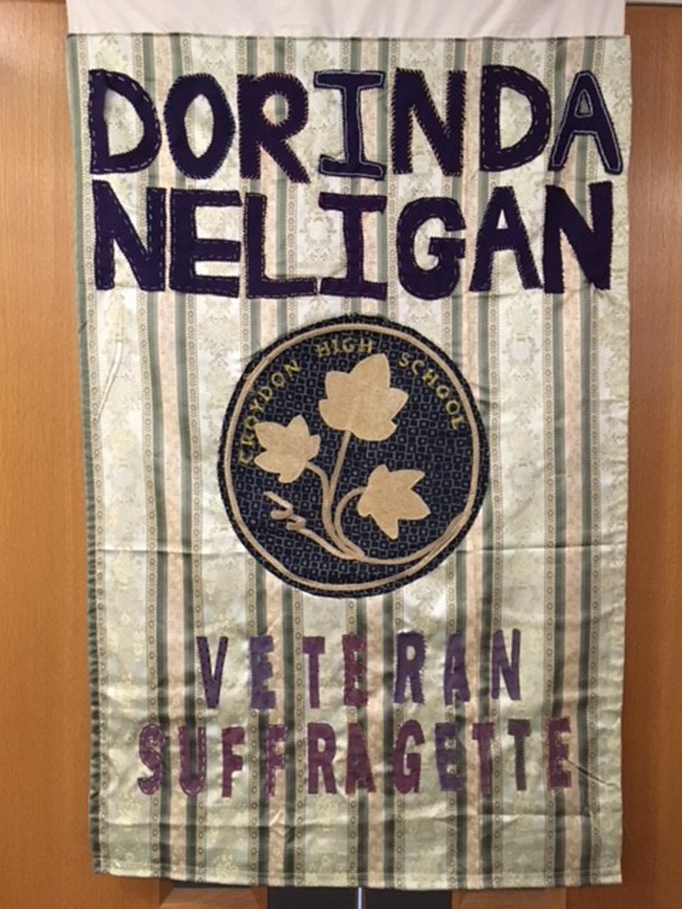 My curiosity prompted me to find out more about them, so met Lindsay Ould, the Borough Archivist, who mentioned they were for a London-wide project celebrating 100 years of votes for women, made by community groups, museum visitors, school pupils and Museum of Croydon staff inspired by the borough and its history.
They have joined museums, archives and arts organisations across the capital taking part in the 100 banners project. Funded by Heritage Lottery and created by Digital Drama, the project commemorates the suffrage movement and the centenary of the Representation of the People Act 1918.
The first of Croydon's banners is a collaborative creation from Croydon embroiderers' guild, the U3A and museum staff, depicting the borough's famous skyline, with symbols of crocuses, poppies and oak leaves.
Young people and their families have also contributed to Croydon's banner collection, creating small bannerettes for Croydon's collection at a museum family day last month. Visitors also worked with the artist-in-residence, Becci Kenning, (www.art-in-transit.com) to design Croydon's Dorinda Banner, an example of a 'Heroine' banner. The Dorinda banner is inspired by Dorinda Neligan, the first Head of Croydon High School for Girls who became a more active suffragette after she retired. Pupils from the textile group at Croydon High School are completing the work on this banner.
The final banner has been created by Museum of Croydon staff and volunteers, based on details of a suffragist (non-militant) banner from 1907, researched from newspaper records held in the museum's research room.
These banners are all made of material and similar to the historic banners that are now housed at the Museum of London and at the Women's Library at LSE.
100 Banners Gathering at the Royal Albert Hall & Kensington Palace
Date > Thursday 8 th March
Meeting point > Back steps of the Royal Albert Hall, 11am for banner poles
End point > Kensington Palace
Timing > 11.00am – 2.30pm
Message from Lindsay:
This is our opportunity to take a group photograph on International Women's Day of all the 100 Banners on the steps of the Royal Albert Hall, which was the venue for many Suffragette and Suffragist rallies and subsequent meetings of the WI. After our group photo, we will be going inside the Hall and to listen to a short panel discussion about their suffrage history. After this, we will be going on a short processing through Hyde Park to Kensington Palace, for a further photo opportunity.
The banners will also be shown at WOW Festival at the Southbank on the 10th and 11th March 2018.
Great Art, Great Cause, Go Support!
P