Picasso 1932 : Love, Fame, Tragedy – TATE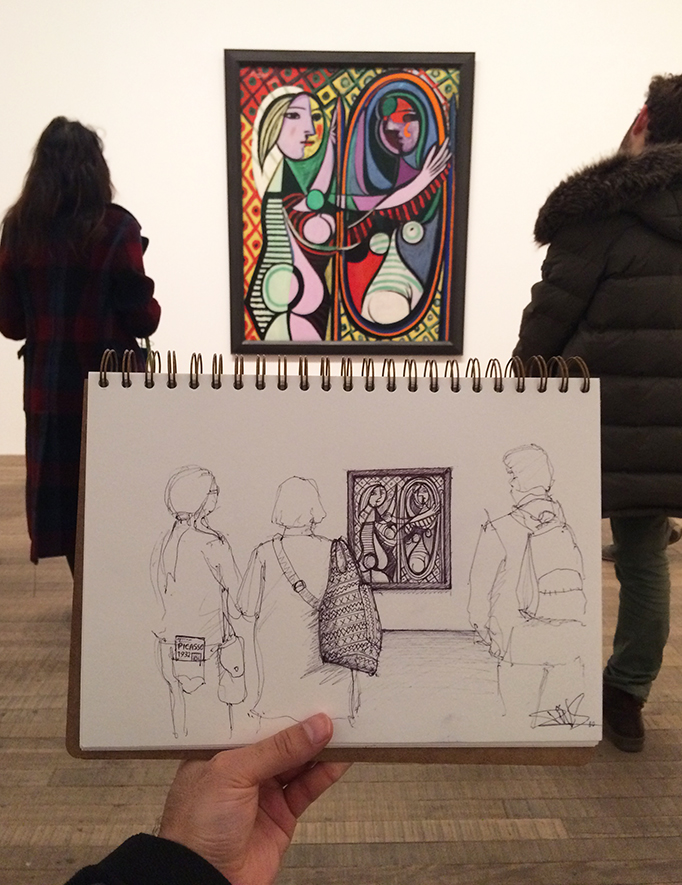 I love art. The more I sketch, the more i'm seeing, what lies within, the canvas, the surface, the form, the shape, everything…plus, anything which gets you off ya phone and more in the zone, is a good thing!
Popped down to Tate Modern to check out the Pablo Picasso exhibition, featuring more than 100 paintings, sculptures and drawings, mixed with family photographs and personal life bits.
The 'Girl Before A Mirror' is a personal fav as I feel it embodies everything 'Picasso' in one piece…the women, bold brushstrokes, organic forms, random compositions, energy, and Harlequinesque patterns with a self reflective nature. The woman in the painting was his mistress, Marie-Thérèse Walter, who was painted by him multiple times during the Cubism period in the 1930s. *Shout out the lady with patterned bag who came into view as I sketched, nice touch!
The more I see Picasso's transitions from style to style, I fully appreciate the range and execution of his output, the essence and fluidity throughout his work. An artist who wasn't afraid to try something different, and had the thunderballs to see it through the love, the fame, the tragedy, with such great passion…a true creative force!
Big love to Sydney, my fellow Tate Mate 🙂
P