DIPLOMAT MAGAZINE X PINS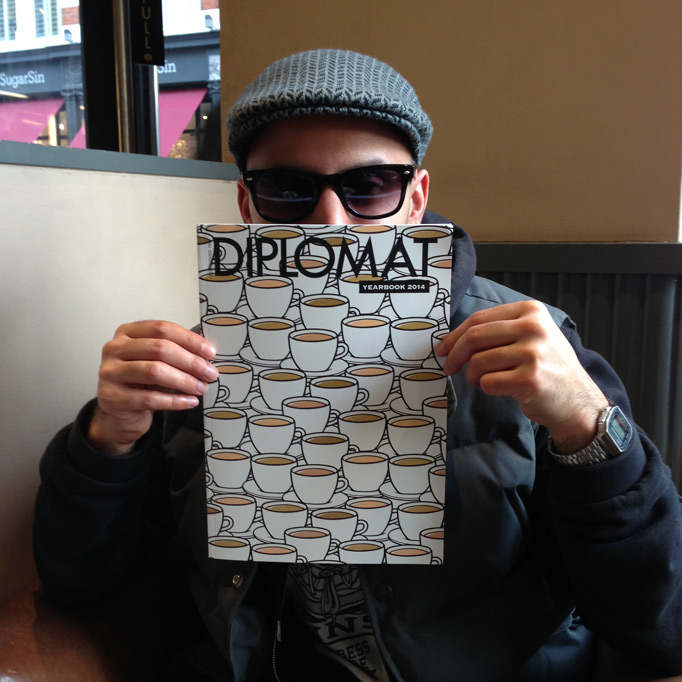 The lovely Jeannine Saba, Creative Design Director for Diplomat Magazine, got in touch and wanted me to design the front cover for the Diplomat Yearbook and Education Guide 2014, was more than happy to accept…
Diplomat is a foreign affairs magazine that provokes intelligent discussion from the heart of the Diplomatic community in London. This 67-year-old magazine provides a unique insight into the minds of the most prominent world leaders and governments. Diplomat's mix of high quality analysis, political commentary on world affairs and interviews with Ambassadors make it essential reading for the diplomatic community and those working in foreign affairs.

Jeannine discovered her biggest passions is finding artists and ultimately working with them, and has since commissioned the likes of Belgian street artist ROA , French artist Invader, Sir Quentin Blake and legendary Gerald Scarfe.
I continued my '#CuppaPINS' / tea theme for the cover, which I thought was pretty fitting as when your usually reading a mag/book, your taking a well deserved break from all the daily politics and normally have a cup of tea / coffee on the side…#CuppaDIPLOMAT, ha!
The Yearbook will be distributed across all the embassy's across London, and the Education Guide across various private / boarding schools, which is nice!
Once again, thanks to Jeannine for making it all happen! 🙂
*Pics of Education Guide coming up!
PINS