IS IT THE SHOES? – SNEAKER FESTIVAL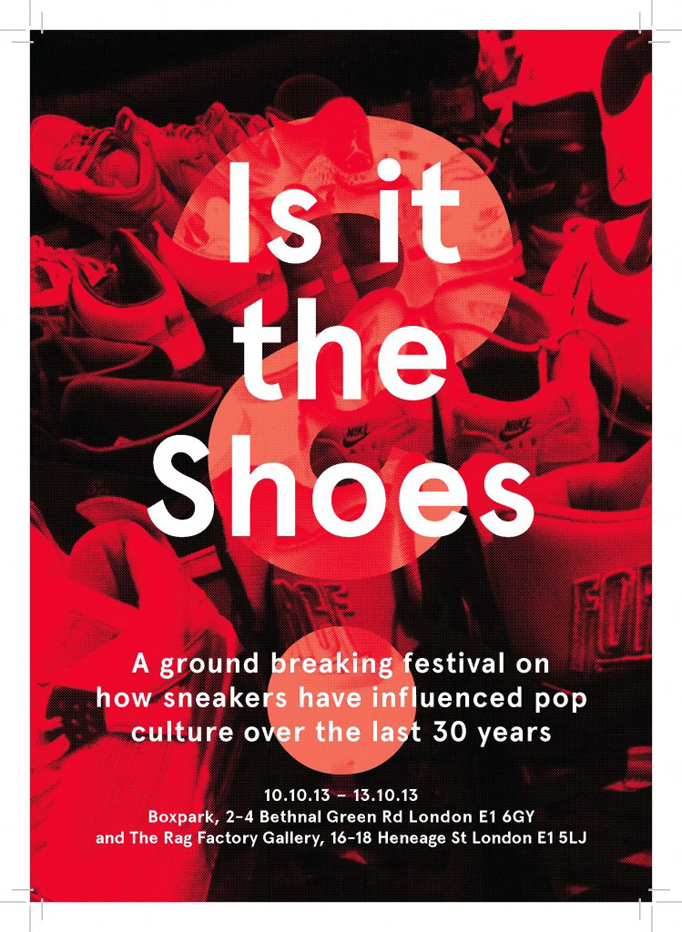 To celebrate how sneakers have exploded into the mainstream over the last three decades, experiential event company We Are Parable have developed "Is It The Shoes?", a three day retrospective event that will explore the influence that trainers have on design, music, art, film and fashion.
The festival will be held in at the Rag Factory Arts Gallery on the 11-13 October 2013. An accompanying exhibition will take place which will highlight the key brands and shoes that contributed to what we now call the sneaker "game", and will attempt to provide users with a complete back story to these sought after shoes. See below a programme of free activities.
Sneaker Retrospective Exhibition
Telling the story of how sneakers have influenced pop culture over the last 30 years with a selection of over 100 pairs rare trainers and sneaker inspired art.
Part of 'Is it the Shoes?' Sneaker Festival
Friday 11th October, Saturday 12th October, Sunday 13th October 12- 7pm, free entry
Rag Factory, Apricot Gallery, 16-18 Heneage St, London, E1 5LJ
Film Screening of 'Just for Kicks'
Sneaker Documentary about the role of trainers in fashion, athletics and hip hop.
Part of 'Is it the Shoes?' Sneaker Festival
Saturday 12th October, 2pm, free entry
Rag Factory, Apricot Gallery, 16-18 Heneage St, London, E1 5LJ
Sneaker Art Workshop
Drop in sneaker inspired art workshop led by artist PINS, music from DJ ACES LACES
Part of 'Is it the Shoes?' Sneaker Festival
Sunday 13th October, 2pm – 3.30pm, free entry
BOXPARK, 2-4 Bethnal Green Rd, London, Greater London E1 6GY
Panel Discussion
'Is it the Shoes?' will also host an exclusive panel discussion covering some of the key issues currently dominate sneaker culture
Sunday 13th October, 5pm – 6.30pm, free entry
Rag Factory, Apricot Gallery, 16-18 Heneage St, London, E1 5LJ

PINS