CREPE CITY IS BACK!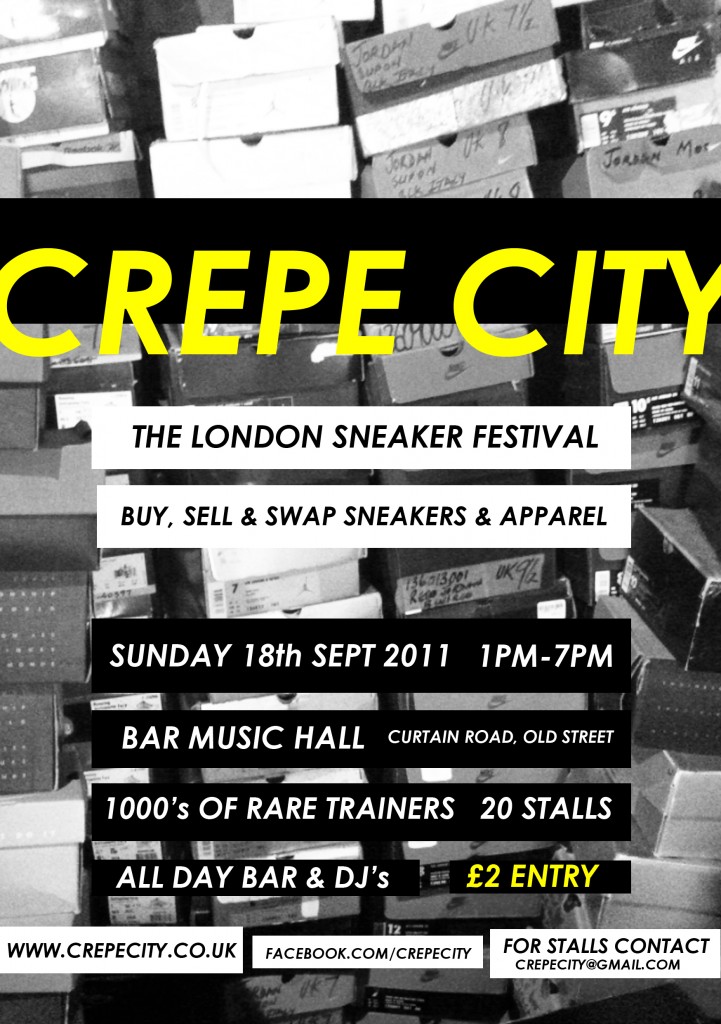 Ok guys, its that time of the year again to draw out them fresh crepes (kicks/sneakers if you didn't already know) and get down to Crepe City…here's a healthy dose of blurb for anyone unfamiliar with this event…
Crepe City, the UK's largest rare and vintage sneaker sale, returns to Bar Music Hall in Shoreditch on Sunday 18th September 2011.
With over a 1000 trainers for sale from 20 of the UK's leading collectors and resellers and stalls from London's hottest streetwear brands it is a one of a kind event and will be the largest Crepe City yet.
Expect to find trainer treats such as original Jordan's and Retros from late 90s to current day, Nike Air Maxes, SBs and Air Forces and Vintage Nikes from 1980s and 1990s.
Also on sale for the first time ever in the UK will be two stunning collections of Vintage Puma Discs (including multiple pairs of original womens disc blaze), Asics (including Gel Lytes, Hyperfits and many other rarely seen on sale classic running shoes), Adidas court/terrace shoes from 1970s and 1980s (including multiple pairs of original Adidas Londons) and Nike runners from 1980s – early 1990s (including original tailwinds and windrunners). We also have a load of hard to find Jordans including Black/Red and White/Black Jordan 4's from 1999, Colombia 11's and White/Navy 6's.
On top of this there will be an exclusive clothing and sneaker stall from GIMME 5 and the UK's leading streetwear brands will be in attendance including PINS, Benjart, Playdot, 360 Clothing, Dat Tag, Protégé and Fev. Crepe City caters for all styles and sizes (including the girls) with shoes ranging from £30 bargains to £500 exclusives.
There will be music all day with guest appearances from DJ Zoel and other leading DJ's showcasing London's young talent. The bar and kitchen will be serving all day breakfasts and fresh crepes.
To sell or swap your trainers at the festival please contact us on crepecity@gmail.com for information.
I will be down on the day selling my freshness, as well as other surprise items on the day…the first 5 visitors to my stall to mention the PIN-CODE: 54321POW! will get a free t-shirt cos im nice like that!
So if you aint doing nothing, why not roll down, n check out what all this sneaker fuss is all about…the last CC was ram jam, so do arrive early to avoid missing out on that freshness! Trust me, all the good ishh goes quick, so imma get in quick my damn self…8.5 MAX 90s/1s, im coming for you!
Big up to Rons and the team for keeping the sneaker scene well and truly alive!
PINS