MY BIG FAT NY BLOG!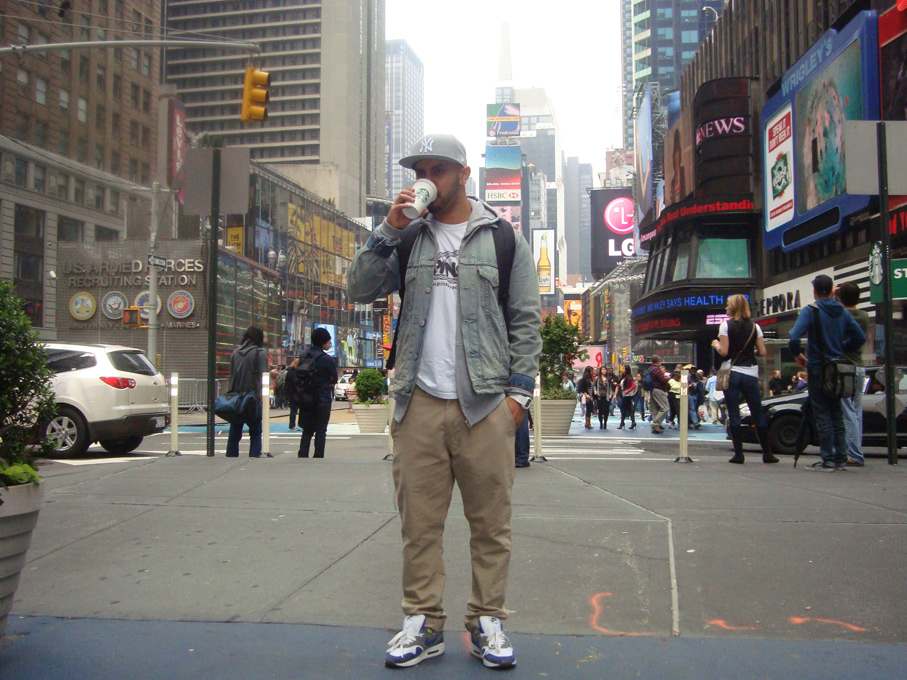 So, I finally reached NY with my cousin and have to say it was an eye opener…from the outset getting in the cab and driving to our hotel near Times Sq was a madness…the driving was crazy!… I have a new found appreciation for London driving…the way they drive up in NY is WOAHH!, you know them ones when you get out the airport, get into the taxi and experience the driving for the first time, straight crazy, its like the cars are bigger fair enough, but does that mean you need to bump into each other??, and the horning is wayyyy over the top…so much so, you get fined $350 in some areas for doing it too much lol….
The fed cars are jokes too, when you hear the sirens, its literally like DJ Whoo Kid is driving them and mixing/touching some sampler like woop woop woooooooooo "take that" "take that" woop woop woooooooooooo but in irregular doses (you have to hear it to know what I mean)…ok, no one says "take that" "take that" but P Diddy could easily do a thing thing…
The hustle in NY is over serious, almost like dollars bills flying in the air and everyone trying to grab 'em…the vibe is over cool, harsh, but cool….kinda understand the whole thing of 'make it in NY, n you can make it anywhere' kinda of vibe, just something about the place can't put my finger on it, but guess it's the hustle n bustle of it all, everyone is on it, the hunger is strong…
Tips…they love their tips out there…(im not talking about tips on 'life', which I was trying to drop on a cheeky one) that's when I knew my wallet was gonna get slightly rinsed, not only on nice materialistic things, but 'tips' too…and it did!
Times Sq is literally one humongous luminated billboard, everywhere you look, adverts, and im talking crazy sized adverts, like HUGE, like how the hell they put them up…think Piccadilly Circus times 20…
Tall Latte's with extra espresso shots was a daily thing at Starbucks, which dominated the streets with their coffee pit-stops…literally, the NY look is 'in Starbucks, coffee, MacBook/iPad, straight casualness'…
We hit up Grand Street / Soho / Broadway which housed some cool streetwear such as Supreme, Michael K, Blades, Transit, The Hundreds, Stussy plus more…
When it came to alcoholic beverages in Clubs/TGI Fridays/Dallas BBQ spots, NY don't measure, they just pour…generously…not a big drinker myself, but lets just say I was walking out slightly more tipsy than usual…and the food portions, WOW! All im saying is hit Dallas BBQ and order 10 Hennessy wings and chips…we need us a DBBQ down here!!!
Everyone wears Jordans out there, hardly came across any Air Max'ers…touched Flight Club which had a ridiculous amount of kicks wrapped in plastic on one huuuuuge wall…actually surprised I didn't pick up any kicks at all during this trip, mos def unlike me, must be coming down with something, or prob cos I simply didn't see anything fresh enough…although I did see some fresh Yellow/Black 'Kissing Lips' SBs which were sold out in my size 🙁
As for the buildings…jeeeeeez they tall…so tall, you're almost in constant shadow when you bop the city streets…
Chelsea Lately is big out there, and have to say for someone who doesn't watch much TV, I caught up on my daily dosage in the hotel…she kinda funny…
As for the girls, pretty hot, similar to London…the bonus? They were diggin our accents…its like having that LDN flavour got them all funny…the more you talk, the more they lit up…main topic of convo…'The Royal Wedding'…they all over it out there, even more so than we are over here, its mad….
Didn't manage to bump into Kim K or Amber Rose which was a damn shame, heard they were in meetings, oh well, im coming back in August girls, meet in the middle?
All in all, it was a good trip, the only long thing, I still had half my list of attractions/sights to hit towards the end, including a healthy amount of Art Museums/Galleries…so im gonna go back, can't wait! Oh yeah, also hit up Madame Tussards out there, thats a whole next post coming soon…
Big up Richie/Ivo/Rey at Probus NY for the Casio Wood Shock hook up (will drop pics soon), G Smoove for showing us around, Alana in MAC Make up, Alex at The Hundreds store, Shaun for the Comedy ish, Elmo for giving us jokes, The Philly gals, Courtney Reed (Amazing actress/model), Freddie the Bellman and Alyssa (Sleeping Beauty)…
PINS