URBAN & ICONIC – THE WORLD OF STREET ART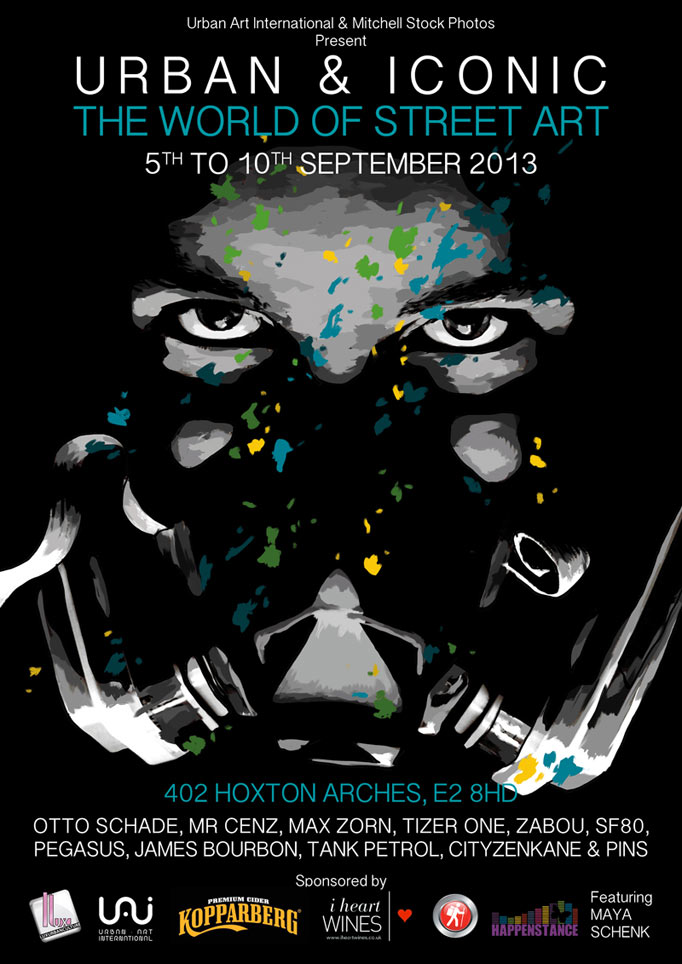 So I recently got my painting bug back, well it never really left, simply replenishing them creative roots…and to kick off I have a group show coming up with a whole posse of dope street artists in London…
Urban Art International and Mitchell Stock Photos present Urban & Iconic – The World of Street Art Gallery who are representing some of the most unique Urban Artists on the scene today, such as: Otto Schade, Max Zorn, Tank Petrol, SF80, James Bourbon, Pins, Cityzenkane, Pegasus, Zabou, Mr Cenz, and Tizer One.
It will be a multi media extravaganza with stencil art, free hand sprayed art, oil and acrylic and oil art, sculptures and live graffiti in the courtyard out back.
A unique show with lots of inspiring art we that we are exhibiting from artists from the community and the world over as a showcase of where Street Art has come from the streets to the gallery.
Original Artwork, Limited Edition Prints and other art by the Urban Artists.
Cider from Koppaberg and Wine from I Heart Wines.
Live Music from Happenstance and Maya Schenk.
I will be showcasing fresh works as well as a limited edition screenprint for the show based around my street art works including 'Lipweed' and 'Dobutts'.
Also, cos im a nice guy, I will be giving out PINS goodys bags to the first 30 who attend the private viewing (between 3pm-6.30pm) packed with sweet treats!
*Please RSVP using below contact info for Private View
Facebook Event: HERE
Big thanks to Jay (Mitchell Stock Photos) and Kate (Urban Art International) for putting it all together!
Hope to see you there! 🙂
PINS