CREPE CITY 7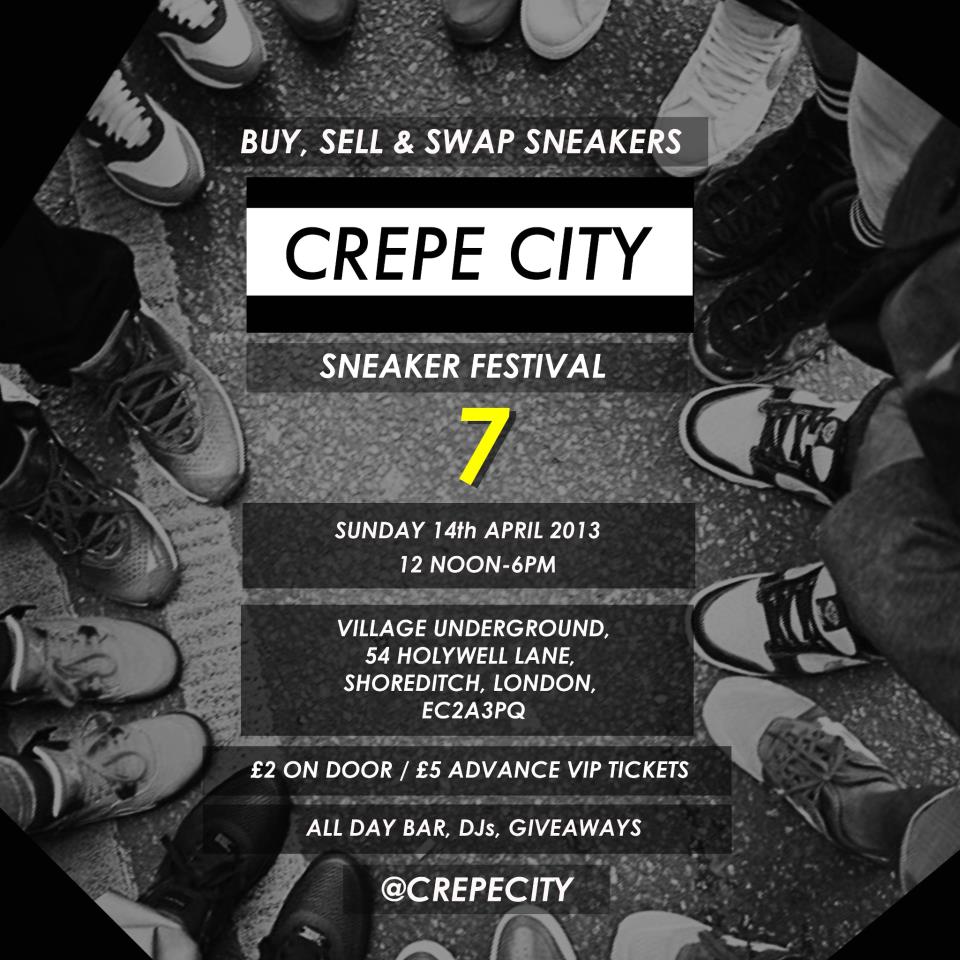 THAT TIME. MORE SELLERS. BIGGER VENUE. POW!!!
Crepe City Sneaker Festival returns on 14th April in a new, bigger venue. Expect even more rare pairs of kicks on sale and more streetwear brands.
For this event the Crepe City team have gone to great lengths to ensure that the best and rarest trainers from all of your favourite brands will be on sale on the day. There will be a lot more stalls than normal, including new sellers to the event bringing a fresh selection.
In total we expect there to be 1,000+ pairs of rare shoes on sale ranging from Yeezys, rare Air Maxes, the hottest Jordans, deadstock Huaraches and pairs of ASICS that were never released in Europe. In addition Wellgosh will be in attendance bringing a selection of Deadstock kicks that aren't available in store. As with all of our events, the UK's top streetwear brands will be in attendance and DJ's will play all day.
Live Sneaker customisation
Customisable Snapbacks
Food served all day
Sneaker Giveaway
All day DJs
AFTER PARTY – 9-12pm
@ Village Underground, Holywell Lane, London, EC2A 3PQ
You already know ill be down in full kripsy effect…got some fresh freshness too, you'll have to reach and n see whats what… 🙂
You know the drill…arrive early (the ques gonna be a next hype this time round) and bring lots of cash, dip into the savings if need be, you can practically do all your swag shopping for the year in one place! #BlowOutTing
Keep up to date with the latest CC news via their FBOOK page
Follow them: @crepecity
Peep the video from last years CC6 below, spot the Del Bwoy!
PINS