NASS FEST, back once again!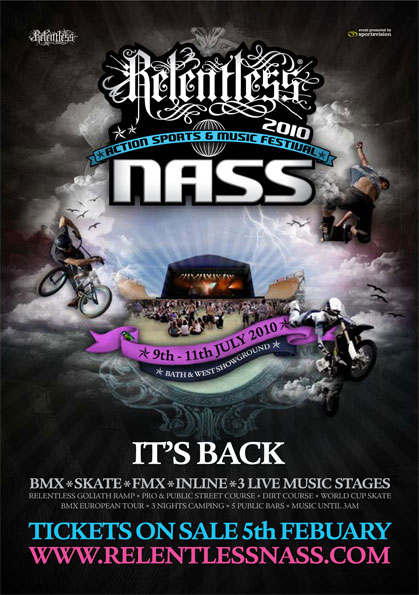 Summer's here, and that means NASS FEST time!! BLUP BLUP!! This will be my fourth time down at the action sports/music event selling bits and have to say it looks like its gonna be OVER DONUTS!! Every year it seems to get better…gonna be good seeing old faces, plus new ones! Last year was cool, even though it did poop it down, hopefully we gonna get that recent wave of sun throughout the days being there, I beg we do!! Will do the sun skank before I go in hope! Ok, so will be bringing down my usual freshness, plus more freshness which aint even available to buy on the website just yet, plus more other bits n bobs, I told you, its gonna be DONUTS!!
The moosic line up is looking sikkkk! Doubt Wiley gonna reach tho, but looking forward to seeing Plan B, Tinie Tempah n Chase n Status plus one two others….

For those of you who reached last year, i'm gonna be plotted up in the same place as last year opposite the dutty big Goliath ramp, just lookout for the donuts!
Tickets are still available to buy and you can reach for the whole weekend or just the day, available to buy here.
For more info on NASS plus other exhibitors trading at the event, check here.
PINS